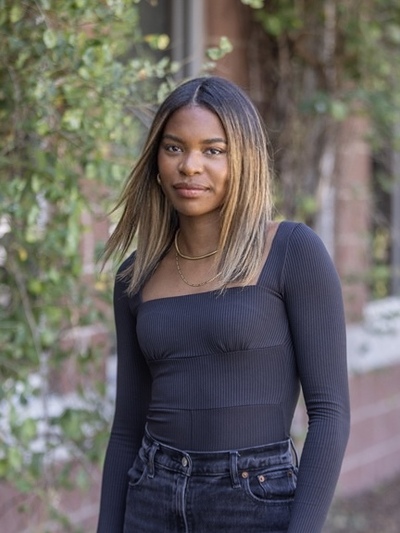 Afure Adah
MFA Candidate, DRD | Graduate Associate
Areas of Expertise
Brand Identity Design
Packaging design
Graphic illustration
Education
B.F.A Graphic Design, Marketing Minor | Minnesota State University, Mankato
Afure Adah is a Graphic Designer, Sims lover, and fashion enthusiast. She received her BFA in Graphic Design at Minnesota State University, Mankato, where she competed as a sprinter on the Women's Track and Field Team. 
During her undergraduate studies, she gained skills in Brand Identity Design and Graphic Illustration, taking aesthetic inspiration from social media, pop culture, and Gen-Z trends. She used problem-solving and design elements to produce creative results for branding and marketing issues. In her last years of undergrad, she began taking an interest in UX/UI design and found great fulfillment in creating functional visual designs that addressed her peers' specific psycho-social concerns. Her interests in social media and pop culture designs merged with user research and understanding of consumer behaviors.
With her added experience as a Student-Athlete, she developed various soft skills such as effective communication, leadership, collaboration, adaptability, and empathy.
People Filters: