Financial Aid and Scholarships
Navigating the various aid and scholarship options can be a formidable task for many families and students. This page is intended to provide prospective and current students with an overview of various aid and scholarship programs, as well as portals to apply for each of these opportunities. The Department of Design's ability to provide financial support to our students is made by possible by the generosity of our various donors. Here, you will also find information about the various scholarships available, the target populations they serve, and how to make a contribution to these funds.
Scholarship and Graduate Associateship decisions are made at the sole discretion of the Department Chairperson, in consultation with the faculty. Scholarships and GA appointments are administered via our Business Operations Manager Blaine Nicodemus.
Applying for Financial Aid
There are various levels of financial aid and scholarships available, from various governmental agencies, to the university, college, and department. To ensure you are considered for all available funding, please follow the steps below. 
The Department of Design has several scholarship funds available to our students, and below is a brief description of each. When you complete your Department of Design Application for Scholarships, you will select which of these scholarships you'd like to be considered for. Scholarships are available to undergraduate students accepted into a major, as well as our graduate students.
Sara Jane Pyne Memorial Scholarship in the Visual Arts
The Sara Jane Pyne Memorial Scholarship was established in 1981 with a bequest from Sara Jane Pyne (BFA, 1941) for scholarships to deserving students in the visual arts and design.
The Gim and Jan Jay Scholarship
The Jay Scholarship was endowed with gifts from John C. Jay, BFA, 1971, in the name of his parents, Gim and Jan Jay, and is to be used to encourage and support students of Asian descent who seek careers in the visual or performing arts and design.
The Charles Wallschlaeger Scholarship Fund
The Wallschlaeger Scholarship was established in 1986, with gifts from alumni, faculty, staff, and members of the design community to recognize Charles Wallschlaeger's thirty-three years of service as a Professor, nineteen of those years as Chairperson of the Department of Design. The income from those gifts is awarded to an outstanding undergraduate or graduate design student.
The Edith Fergus-Gilmore Scholarship
The Edith Fergus-Gilmore Scholarship was established from gifts from Robert H., John C., and Elizabeth O. Fergus in honor of their mother and mother-in-law Edith Fergus-Gilmore. The scholarship is used to assist students in the purchase of materials for and the production of fine and applied arts.
The Anthony Byington Art Angel Scholarship Fund
The Byington Scholarship is available to Visual Communication Design students, and is funded by the family of alumnus Anthony Byington as a tribute to his memory.
The Minority Opportunity and Retention (MORE) Scholarship Fund
The MORE Scholarship is available to undergraduate minority students in good academic standing.
Graduate students pursuing their MFA at the Department of Design have the opportunity to be funded through a Graduate Teaching Associateship. A student applying to the graduate program has the opportunity to indicate their interest in funding during the application process. Benefits to an associateship include:
GTA - 50% FTE (20 weekly hours)
Full tuition waiver

Summer tuition waiver, if position held both Autumn and Spring semesters
Instructional and general fees covered

85% of student health insurance costs covered
Monthly stipend equivalent to Graduate School minimum 

$1,920 monthly for AY 19-20
GTA - 25% FTE (10 weekly hours)
Half tuition waiver

Summer tuition waiver equal to half of costs, if 25% FTE position held both Autumn and Spring Semesters

Monthly stipend equivalent to Graduate School minimum

$960 monthly for AY 19-20
Enrollment Requirements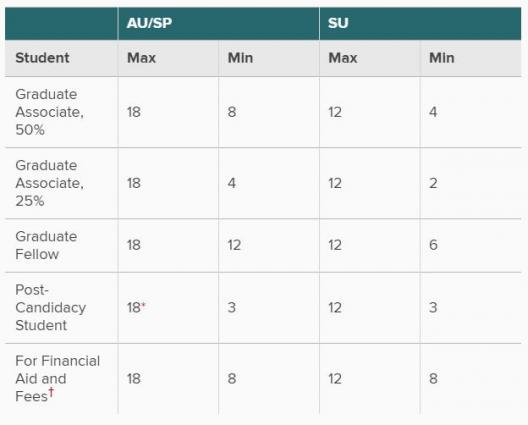 The Department of Design's scholarships are made possible solely from the generosity of our gracious donors. If you feel inclined to donate to a scholarship fund whose mission is important to you, please do so via Giving to the Department of Design.