Body
The Department of Design at The Ohio State University is committed to creating a stimulating and secure environment for learning. With our students, we anticipate meeting the challenge of delivering an excellent design education in the context of COVID-19 by treating the constraints it creates as opportunities to explore new ways of engaging creative practices. This will only be a successful effort if we agree to contribute to the process by doing our best to remain healthy and productive. This will require good will and generosity, responsible behavior, and attention to detail, because we are replacing many of our former ways of doing things with new approaches and alternate means of operating. Because in the words of Herbert Simon, design is about changing the world by shifting our circumstances from existing to preferred, we must work together toward the common goal of excellence.
A great deal of effort and planning has gone into reimagining design education at Ohio State in a time of pandemic. Throughout the department, the college, and the university, we are making every effort to create an adaptable system that will ensure that we can navigate the frequently shifting circumstances in which we find ourselves. Throughout the coming weeks, paying attention to communication and asking questions whenever anything is unclear or uncertain will be necessary. Safety and health is our priority about all else, and we are committed to working together to achieve that goal.
COVID-19 UNIVERSITY UPDATES 
You can always find the most up-to-date information about the university's guidelines and requirements for returning to our campuses at  Safe and Healthy Buckeyes. Because this information changes frequently, you are encouraged to review it frequently.  
It is essential that you download the OSU app and use it to complete your mandatory daily health check before entering campus and any of our facilities. Information about that process can be found at https://safeandhealthy.osu.edu/daily-health-check.
INFORMATION AND GUIDANCE
TIPS, TOOLS AND STRATEGIES
HOW TO HELP
Advanced
Text
Office of Distance Education and eLearning (ODEE) Drop-In Spaces
Small-capacity physically-distanced classrooms, which do not have courses scheduled in them, are being made available for students to drop-in on a short-term basis. These should not be used as long-term study spaces, but in the case where a student has back-to-back online and in-person courses, they can drop into the space for the online course session. 
Informal Study Spaces
Technology-enhanced, informal learning spaces are available for student, faculty, and staff use. In these spaces, you'll find updated computers and comfortable seating for individual or group work.
Media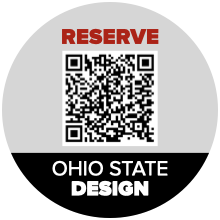 Text
Booking Design Spaces
The Department of Design has created a one stop service for reserving time and space during this time. Through out this document, if a booking or reservation system is mentioned, it is referring to http://go.osu.edu/DesignBooking. 
New features are being added as we can, so check out the link to see what is available now. 
(Reservable studio space may become available after the 15th day of the term.)
Text
The Studios for Art and Design Research 
Students needing to book time in the Studios for Art and Design Research (SADR), AKA "The Shop," may do so via the Hopkins Hall booking system. Please use the button to access. 
Text
DEPARTMENT OF DESIGN AUTUMN 2020 
We have made significant changes to our spaces in Hayes and Hopkins Halls to ensure that you are able to maintain safe distances from your fellow students and instructors. That means that your spaces will look very different in 2020-2021 and your interactions will be more structured and controlled. It is our intent to be cautious in our planning and to follow the guidance that the college and the university provide carefully. Because this information is constantly evolving, it is very important for you to stay informed. Please read your university email regularly! Staying tuned into your instructor's announcements on Carmen and even the department's social media accounts will also raise the chances that you will always know about the latest developments, but these are not a substitute for official communication via email.
Building Operations Contacts
Responsibility for oversight of the department's use of its facilities is shared between our two staff members in our main office: Steve Pruchnicki (.3) and Polly Graham (.311). Polly is the Building Reopening Coordinator for Hayes Hall and Steve is the Safety Coordinator for the Department of Design. You are encouraged to communicate with them directly about questions or concerns about the building or safety protocols that are not addressed in these guidelines. Email is the better mode of communication with them because both are dividing their time between working on campus and working from home.
Building Access
For the autumn semester, access to Department of Design spaces in Hayes and Hopkins Halls will be restricted to the open hours for the buildings, starting on 8/24/20, Monday-Friday. These are M-T, 7 am-9 pm and W-F 7 am-8 pm. Spaces will be cleaned professionally during night hours. If the building's exterior doors are unlocked, our students are welcome as long as safety guidelines are followed. Expect to carry your BuckID at all times. Faculty and staff members have the ability to observe and confirm that access limitations and healthy behaviors are being practiced in our facilities. If a monitor asks you to leave our building for any reason, you are expected to cooperate.
Main Office/Staff Offices/Faculty Offices
Because all buildings have sharply reduced occupancies, most staff and faculty members will continue to work from home when not teaching a hybrid course. The main office (Room 100) will remain locked at all times to control social distancing. Appointments to speak with Polly Graham, Steve Pruchnicki, or Mary Anne Beecher should be made in advance using our new booking system. If you have immediate questions or need access to supplies, knocking on the office door will usually yield assistance from a student or staff member.
Appointments can be made with our Academic Advisor, Gabe Tippery, via OnCourse or by contacting Arts and Sciences Advising at https://artsandsciences.osu.edu/academics/current-students/advising.
The booking system is linked to from our homepage through design.osu.edu/covid19. The direct link to the booking system is http://go.osu.edu/DesignBooking.
Appointments with Mary Anne Beecher (the department's chairperson) can be made through this system. Her open office hours for Autumn 2020 will be Monday 1-3 pm, Wednesday, 1-3 pm, Thursday 10 am-12 pm, and every Tuesday-Thursday from 12:15-12:45 (the lunch break between morning and afternoon classes). She is also available by direct appointment at other times of the day/week.
Faculty members have access to their offices for research activity although meetings with others is restricted. The cleaning of private office spaces is the responsibility of the occupant. Trash should be removed to a public area regularly. High-touch surfaces should be disinfected regularly.
We discourage scheduling in-person meetings of any size other than 1:1, and even those should be restricted to essential conversations. We have demonstrated the effectiveness of using
Zoom for virtual meetings throughout the planning process for the year, and we are prepared to use this tool to facilitate meetings or consultations. As with anything related to our work in the coming year, communication will be the key to our ability to optimize our experiences.
Graduate Studio
The Graduate Studio is now located in Hayes 130. The furnishings provided accommodate social distancing requirements and should not be rearranged. This space will serve as both office and classroom for graduate students. Therefore, its casual use will be restricted to times when classes are not being held. Likewise, its use is restricted to the open hours of the building, and reservations for space use should be made in advance. A reservation system will be provided to allow graduate students to register their use of the space throughout each week to ensure that prescribed occupancy levels are maintained and contact tracing can be used.
Undergraduate Studios
In order to create a learning environment that is feasible for the study of design during the pandemic, most design courses have been designated as either hybrid, distance-enhanced, or distance learning. Each of these designations represents a different course structure, but all include some use of technology for learning/communicating. The prolonged lengths of our courses and the hands-on nature of our project-based learning has required us to rethink our approach to certain types of courses. Your instructors have the responsibility of planning their courses to ensure that you have access to resources, information, and their time and insights so that you continue to make progress in our majors. Interactions with classmates will also be part of the structure of most courses, but there will be restrictions on the forms they can take.
We are aware that reliable internet connectivity may be an issue for some students. You can access to your assigned studio space during your assigned course meeting time in order to be on the university's network, even if you are interacting with your instructor online.
Furniture in studio spaces has been located to meet specific safety guidelines. It must never be rearranged, even temporarily. Masks must be worn over your nose and mouth in all spaces inside of our buildings at all times. Some courses will allow students to meet with instructors in supplemental spaces that have been fitted with both distancing and Plexiglas barriers so that physical or digital work can be viewed more easily and discussed one-on-one or in groups of two or three. Some courses may be able to take advantage of meeting outdoors when the weather cooperates.
Computer Lab
All of our instructional computer lab facilities have been relocated to the first floor of the Hopkins Hall Annex. Students in Design Media courses will have access to the computer lab spaces in Hopkins 180 A and 180 B during their class periods. After using a computer, all desk surfaces, mice, and keyboards must be disinfected using the sprays and wipes that are provided. Students should not touch each other's computer stations to assist one another and a 6' distance from others must be maintained. In addition, masks or face coverings must be worn at all times inside of the computer lab.
Some computers are also located in spaces in Hayes Hall may be made reservable later during the semester (Rooms 224 and 225). A system for reserving space in the PC computer lab in Hopkins Hall or reserving use of iMacs found in Hayes will be provided for a limited number of hours per week outside of classes. The same cleaning protocols for the computers in these spaces must be used. Book via go.osu.edu/DesignBooking
Cleaning and Sanitization
As you learned in your BuckeyeLearn training course, cleaning your own hands and disinfecting surfaces that people touch is a big part of maintaining healthy environments. You are encouraged to wash your hands frequently and there are opportunities to use hand sanitizer near all of the building's entrances and exits. It is important for you to use the wipes provided to clean your desk and chair surfaces thoroughly, as well as any other surfaces that you touch, such as whiteboard markers and erasers. Please place them in trash receptacles when you are finished. We discourage using any shared tools or equipment in our studios and classrooms during the pandemic. If sharing must occur, thorough cleaning after every single use is required.
Our studios will be thoroughly cleaned once per day (on the nightshift). An additional mid-day cleaning may occur in some high-use spaces. For the most part, it is the responsibility of instructors and students to clean up after themselves, however. Please always leave your spaces in a clean, organized, and empty condition for the next group of users. If you ever have doubt about the cleanliness of any furniture or equipment in your space, be sure to wipe it down prior to using it. If supplies are missing or if you use them up, please notify Steve Pruchnicki (.3) to request replacements.
Reservation of Spaces
Our new way of working requires more advanced planning than usual. Because single cohorts of students will no longer be assigned to a room that they do not share, a limited amount of multidisciplinary studio space will be available outside of scheduled class time by reservation. This space is primarily for the use of students who have limited space in their residence or who have limited access to reliable internet service. Only students who have reserved space in advanced will be able to use space outside of scheduled class times. Spaces will be monitored informally and all university and departmental rules must be followed in order to retain the ability to reserve space.
In addition to reserving your desk space online, you will be asked to confirm your presence in the room at the reserved time by logging your arrivals and exits. The primary purpose of collecting this information is to facilitate contact tracing, should any COVID-19 cases develop in our student body. We will also use it to monitor the data around who is using the space to help us plan for space use in the future. Cards for you to fill out with your name, date, time of arrival and time of exit will be available in each reservable space. Please don't forget to use them. And please plan to clean all surfaces that you touched prior to leaving.
The online reservation system for space to use outside of class time can be found at http://go.osu.edu/DesignBooking. Because these spaces are not directly monitored at all times, we ask that you always disinfect any work surfaces you use when working independently.
If the need for additional reservable desk space outside of class time emerges, we will attempt to expand what is offered. Students should use the system and let their instructors know if they are unable to secure space when they need it. Our space is not unlimited, of course, but we will do our best to be as open with as much space as possible while still ensuring that sanitation can be maintained and within the constraints of the building's open hours. At the end of the day, students will be expected to vacate the building at the time its exterior doors lock and they should never prop exterior or internal doors open. The ability to know that the building is empty; to trace people's contacts; and to provide the persons conducting deep cleaning access to unoccupied space is a critical need this year.
In Autumn Semester, Hayes Hall will open at 7 am every morning, Monday-Friday. Doors will lock on Mondays and Tuesdays at 9 pm and on Wednesday-Friday at 8 pm.
Lockers/Storage
Because our rearranged studio spaces in Hayes Hall ensure our ability to maintain acceptable social distances, they are no longer assigned to single cohorts of students. This means that it is no longer possible for you to leave your belongings on a desk or in a room when you are not participating in a class meeting in that room. It will be necessary for you to clean your desk surface before and after use, so that is another reason to keep your belongings with you at all times. Carrying your tools and materials with you will also ensure that you have what you need should a quarantine suddenly be required for you. Please do not use the shelves or cubbies in a studio space unless your instructor provides specific permission to do so.
Likewise, the lockers in our corridors will have more limited use than in previous years, although they will be available. Design student locker use is restricted to lockers on the  first and second floor of Hayes Hall, and lockers inside Room 334. Students who claim a locker should fill out the online form as soon as you have verified as specific locker's availability. The link to the locker reservation form is: https://design.osu.edu/form/hayes-locker-registration. This can also be found by going through our COVID page from our web site. Only combination locks are allowed (no keyed locks). You must provide your name and your lock combination on our online form. You can only use a locker if you maintain social distances while accessing them and agree to not share your locker space with another person. The department reserves the right to remove locks and to confiscated locker contents if they are not cleaned out by the final day of the spring semester or any date by which on-campus learning is suspended.
Common Areas
Please observe social distancing if you use desks in our lobby or other common spaces (corridors) and remember to clean the surfaces of desks and chairs prior to use. Please do not ever move furniture.
We will use directional stairs in Hayes to help reduce congestion during times when classes are changing. Please read the signs and follow their instructions. The stairs on the west side of the building toward the front flow up. The other two sets of stairs (east side and at the rear) flow down.
Elevators
If you are able to use the stairs, please do so. Our elevator is reserved for ADA needs and moving furniture/bulky materials. Only one person is allowed in the elevator at a time.
Drinking Fountains
Use of drinking fountains in Hayes Hall is discouraged. Always wipe off any surfaces that you touch if you use them.
Kitchenettes/Food-related appliances
No refrigerators, microwaves, coffee-makers or other small appliances are allowed in our educational spaces. If any small appliances are used in private faculty offices, they MUST plug into a grounded electrical outlet directly. If you require food or drink while in the building, we encourage you to bring your own in a cooler or thermal container (if needed). Bringing food that does not need refrigeration or heating is encouraged. Instructors and staff members can use the refrigerator, sink, and microwave in Room 230 but all handles/surfaces you touch must be sanitized after each use. Sharing food or beverages is forbidden. Any food found in our spaces during cleaning cycles will be discarded.
Preserving Department of Design Community
While we acknowledge that all of our operations and interactions will be quite different than they have been in the past, one thing we do not want to lose is our sense of community and passion for design. It will be difficult to sustain the same sense of connection you may have enjoyed with your peers and your instructors, so we are planning some regular opportunities to "gather" via Zoom for presentations from guests and even from within our own community. Our department's Faculty Exhibition has been reconstituted this year as a form of online conversations that interweave faculty research interests with contemporary social issues that will be of interest to everyone. Programming related to the Faculty Exhibition will begin on 9/21/20. Mondays at 4 pm will be primary times for programming, but there will be other times throughout the six weeks that follow to participate in other events.
Mental Health and Wellness 
This information may be last in our "Returning to Learning" handbook, but it is by no means, the least important. Our department made a commitment to the health and well-being of our students, staff, and faculty prior to the arrival of the pandemic. Since COVID-19 sent us into isolation, the challenge to stay healthy in both mind and body have only increased. Coming back to campus may create new sources of anxiety for all of us, so we encourage you to familiarize yourself with all of the available sources of support. The study of design is intended to be rigorous and challenging, but it also presents the opportunity to apply creative problem-solving processes to other aspects of life. Just like in an airplane, you are encouraged to "put on your mask" before tending to those around you. Keeping yourself healthy is fundamental to productivity and the ability to discover and learn. Here are some links to university resources that you may find useful:
Mental Health and Wellness Resources on Safe and Healthy Buckeyes  
Text
Keep Our Campus Healthy
The best way to prevent the spread of any type of infection is to practice routine hygiene etiquette:
Wash your hands often and thoroughly for at least 20 seconds with soap and warm water. Use alcohol hand rub as a backup.
Cover your mouth and nose with your elbow or a tissue when you sneeze or cough. Throw away your tissue after one use.
Avoid close contact with people who are sick.
If you are ill, stay home. Keep a safe 6-foot distance from others to prevent disease spread.
If you are seriously ill, seek medical advice.
Complete and stay up-to-date on your Ohio State vaccination requirements.
For more information, visit https://wexnermedical.osu.edu/features/coronavirus