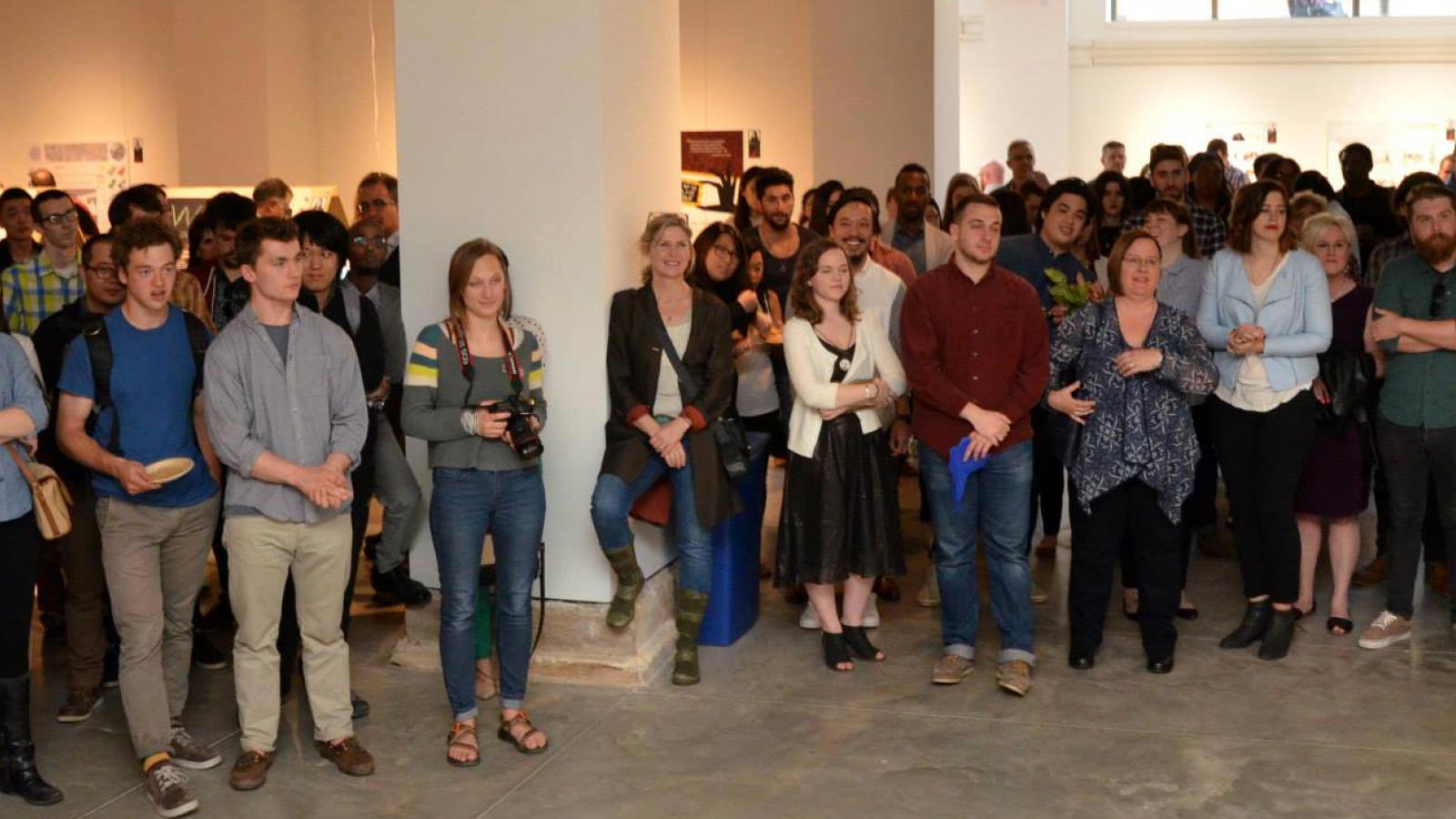 Body
The Department of Design's undergraduate activities fall into three major programs, each leading to the Bachelor of Science in Design (BSD) degree: Industrial Design, Interior Design, and Visual Communication Design. Our undergraduate degree programs provide comprehensive, professional training in the design disciplines, while also emphasizing collaboration between each of the areas of study. Students develop projects that demonstrate their abilities to create solutions that meet or exceed professional expectations.
Industrial Design deals with developing a wide variety of objects and interrelated systems. Consumer electronics, tools, safety equipment, furniture, medical equipment, and transportation devices are just a few of the many products created in practice.
Interior Design includes the planning of spaces for commercial, industrial, and institutional uses. Offices, retail spaces, health-care facilities, and trade-show exhibitions are among the many types of projects typically created in the field.
Visual Communication Design involves the creation of various types of printed, fabricated, and digital media. Corporate identification, environmental graphic, consumer packaging, motion graphic, and interactive information systems represent some of the many possibilities in this discipline.
All three major programs start with an Interdiciplinary First-Year Design Foundations course sequence. This Design Foundations sequence begins with a highly competitive selection process to become a Pre-Design student and concludes with a competitive portfolio-based major admissions review process. More specific information about this process can be found in the Undergraduate Prospective Students section of this site.
Having gained admission to one of the three major degree programs via the Department's annual undergraduate entrance review process, undergraduate students complete a three-year sequence of interdisciplinary research and major specific courses. More specific information on major courses can be found using the respective major program links to the right.
Undergraduate Minor
---
In addition to the three Undergraduate Degree Programs described above, The Department of Design also offers an undergraduate Design Thinking Minor. The 15 semester credit hour minor has been crafted for students who want to gain a competitive edge through an understanding of the basics behind contemporary design situations and solutions. The minor is available to any student able to take courses on the Columbus campus who is interested in expanding their knowledge into this important creative area. More specific information on the  Design Thinking Minor can be found using the link to the right.
General Education (GE) Courses
---
In addition to major specific Design courses, all design students are also required to complete a common curriculum with all other undergraduate students at Ohio State, the General Education program. General Education course work is an integral component of an Ohio State degree, providing graduates the skills, competencies, and breadth of knowledge to become educated, productive citizens. The General Education requirements are designed to enable students to acquire and develop a breadth of knowledge, skills, and perspectives that cross disciplinary boundaries and extend to areas outside specialized programs of study.
Ohio State's General Education curriculum is an integral part of a design education. General education, as embodied in Arts and Sciences, provides the development of knowledge, perception, attitudes, and skills necessary to understand society's traditions and past, its accomplishments and aspirations, its relation and responsibility to the natural world, its diversity and plurality, and its problems and needs. The GE sets a goal for Ohio State students to attain a sense of self within society that invites a continuing desire and ability to learn and work with others for future realization of the human potential.
Below is an overview of the GE requirements for design students. Many categories have as many as 100 courses available at Ohio State that fulfill the requirements, but other categories have only one course. Courses are listed where there is only one option. For more information about category requirements where a single course is not listed, please reference the Professional Programs in the Arts GE Requirements PDF and current students can always contact our Acadmic Advisor.
GE Overview for Design Students
*For students who start at OSU Au14 or later. Others should contact our Acadmic Advisor for requirements.
Writing, 6 hours

First Writing Course, 3 hours: English 1110.01, 1110.02, or 1110.03
Second Writing Course, 3 hours

Quantitative and Logical Skills, 6 – 8 hours

Mathematical and Logical Analysis, 3-5 hours
Data Analysis, 3 hours

Natural Science, 10 hours

Biological Science, 3 hours
Physical Science, 3 hours
Lab Science, 4 hours

Literature, 3 hours
Visual and Performing Arts — Art 3555: Intro to Digital Photography, 3 hours
Social Science, 6 hours from at least two categories

Individuals and Groups
Organizations and Polities
Human, Natural, and Economic Resources

Historical Study — History of Art 2001: Western Art I (Ancient and Medieval Worlds), 3 hours
Second Historical Study — History of Art 2002: Western Art II (The Renaissance to the Present), 3 hours
Open Options, 6 hours

Third Historical Study — Any History of Art 3000+, 3 hours
Any other GE approved course, 3 hours

Social Diversity in the United States, 0 – 3 hours (this category often overlaps with a previous GE requirement).
Global Studies, 0 – 6 hours (this category often overlaps with a previous GE requirement).