October 24, 2022
3D Design System at Dominion MS to Provide Immersive Experiences, Build STEAM Skills
Image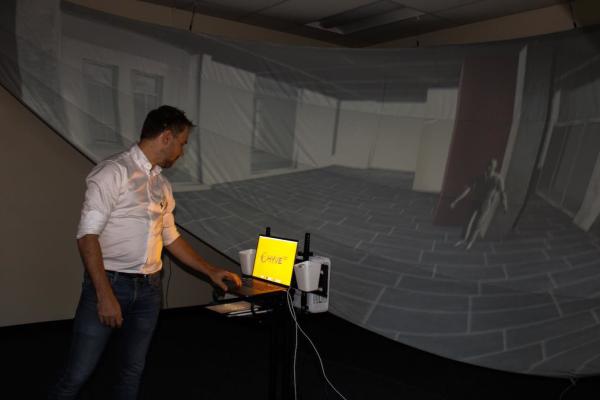 Description
Originally published on Columbus City Schools site on October 24, 2022
Dominion Middle School students may soon be able to explore local and worldwide sites and build STEAM skills, without ever leaving the school. 
Dominion Principal Dorothy Flanagan hopes the new Hyve 3D design system can bring lessons to life and possibly, in the future, become a resource district and community-wide. 
"It's an elegant piece of equipment," Flanagan said. "It's simplistic in its design. It's a projector that shines upon a rounded mirror and onto a rounded screen, which has a 3D effect when you step inside. It's like taking a virtual field trip. You can also use it for its design features, like designing a car while you're sitting inside it." 
The Hyve at Dominion came about through research conducted by Associate Professor and Co-Director of the Ohio State DESIS Lab (Design for Social Innovation and Sustainability) for The Ohio State University's Department of Design, Dr. Sébastien Proulx. Flanagan connected with Proulx, who was looking for a public partner on a grant he was writing regarding design. 
"We were electronically introduced, and when we met, he told me what he wanted to do; it was so aligned with what we are trying to do at Dominion," Flanagan said. 
The Hyve system has passive and active functions. The passive function displays 360-degree videos to give an immersive experience. Proulx and Flanagan said this would bring lessons to life by exploring sites worldwide or in their backyard. The active feature, meanwhile, allows students to get creative and cultivate design skills, drawing models in 3D. 
"For example, one of the projects kids do in the sixth grade is designing a chair," Flanagan said. "They use formulas for weight, volume, mass, area, and circumference to design a chair that can hold the designer's weight. We are hoping to be able to use this technology for career and college readiness by providing students with relevant problems or tasks that people who work in the field of industrial design are faced with."
Students can import any 3D model into the system. Proulx showed an example of a school building layout drawn by architects. He showed each room of the school and said one possible lesson could be designing a school cafeteria or classroom along with its furnishings. 
"You don't have to be an architect, though, to have a say in the design," he said. "You can still get a sense for scale and proportion. Thinking in abstraction is difficult, but with this, you can see what it would look like and be creative at no cost." 
The Hyve, installed in the school this spring, is the only Hyve 3D design system in the U.S, Proulx said. However, there are Hyve design systems worldwide that can connect, providing an opportunity in the future for international collaboration.
"Not only is this the only one in the U.S., it's the only one not set in a university," Proulx said. "This is a decision I made in my research, which is about public participation. I want to study how the system can allow for community members to be engaged in decision-making on community and civic projects."
Ohio State seniors Sophie Stefanski, Erika Strazinsky and Mylo Johnson are working on their thesis projects on the Hyve. They are working with Proulx to turn the classroom into a digital public participation lab. 
"We are looking at how we can get both students and teachers involved in using something like this as well as larger communities in Columbus to create a space that is both for Dominion students and serving a greater purpose in Columbus," Johnson said. 
Each student will form a problem and offer a solution for using the space, whether furnishing it with a workable classroom or a creative space. Then, they will create their design briefs and work with Dominion staff to develop solutions. 
"We are looking into what behaviors go on in this room to facilitate the use of the Hyve better," Strazinsky said. "We will research to figure out how students are going to use it and whether they will do activities outside of the Hyve and be immersed inside. How people behave is so important in figuring out how to design it." 
Stefanski, a Centennial High School graduate, said she is hopeful research will make a difference in CCS and the Columbus community.  
"It's hard to think about at the beginning of the project, but it is maybe more impactful than we realize," Stefanski said. "Of course (Dr. Proulx) has not promised that everything we create will go in here, but he has talked about producing some of what we come up with at the end of the semester. It is a technology so new that we don't know yet what we will arrive at or what it will be used for in the future. That's why we are trying to come up with something flexible." 
The next phase is training teachers and allowing them time to think about how to use it. Proulx said he is happy to support Dominion staff by bringing in students to help them navigate the system or consider integrating it into the classroom.  
"The goal is to provide Dominion middle schoolers with this platform so they can see how ideas come to life by being able to engage with each other," Proulx said. "This is a STEAM tool. This is art and engineering coming together. I also hope other schools from CCS will be able to come in and interact with the system. I want this to be a winning collaboration between Ohio State's Department of Design and CCS."
News Filters:
---