June 7, 2022
Camille Snyder awarded Global Arts + Humanities Discovery Theme Graduate Team Fellowship
Image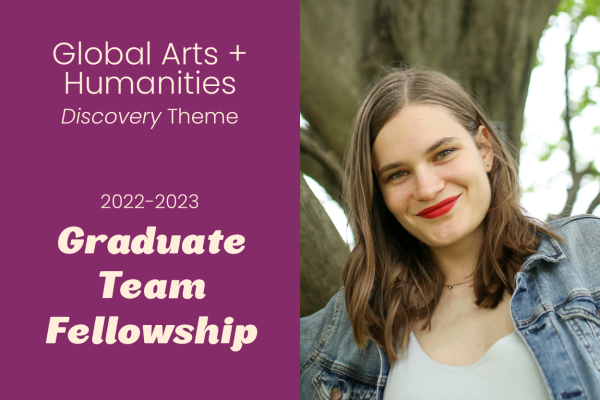 Description
Congratulations to Design Research and Development MFA candidate Camille Snyder on being awarded one of eight Graduate Team Discovery Fellowships. This financial award is given by the Global Arts + Humanities Discovery Theme to recognize the cross-disciplinary aspirations and academic accomplishments of graduate students in the Division of Arts and Humanities in the College of Arts and Sciences. This program brings together a cohort of graduate students whose projects match with our Society of Fellows' annual theme: Archival Imaginations, and it awards each student a year-long fellowship and will help provide Camille with the financial support necessary for her to focus on her research agenda for the upcoming academic year.
Camille's research activities are centered around the topic of female Sexual and Reproductive Health (SRH) experiences. In her research, co-design methods and mindsets are woven together with speculative design to collaboratively create provocative imaginings of near and far future possibilities.
Camille is currently engaged in the first phase of her research, uncovering and documenting sexual and reproductive health histories, with the goal of understanding generational differences. This phase consists of one-on-one interviews with individuals assigned female at birth (AFAB). This includes anyone with a uterus: women, transgender and non-binary individuals, as well as people with any range of gender identities and sexual orientations. The interviews utilize a visual timeline as a framework for documenting sexual and reproductive health (SRH) histories. Through the course of the interview, participants are empowered to describe their experiences and prompted to explore the context surrounding sexual and reproductive health milestones. The stories gained from this phase of research revolve around the past, but also upon future wishes, ideals, and imaginings.
Upcoming research events will focus on generative methods: collaborative speculations on futures in the area of sexual and reproductive health. Participants will come together to create speculative narratives, objects, and spaces—resulting in a collection of artifacts. During the session, participants will be invited to consider possible futures, referencing their unique experiences around their own SRH. 
Check here to learn more about the project or to participate in research activities!
---