September 9, 2019
Department of Design faculty and students contribute to Time and Change book
Image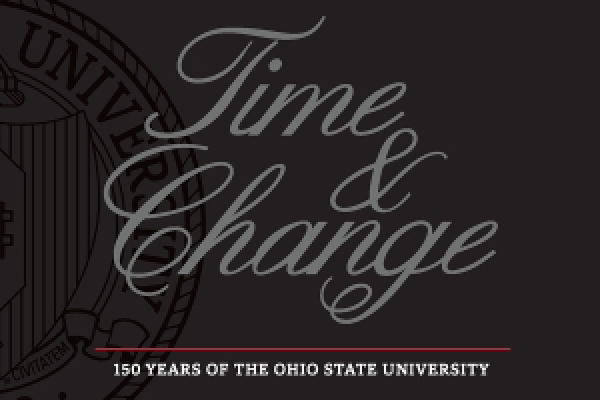 Description
As Tony Sanfilippo thumbs through the pages of the recently published Time and Change: 150 Years of The Ohio State University, he pauses at a black and white photo of an Ohio State student sitting in a tree and wearing a crown of leaves.
The picture was taken nearly a century ago.
"That one is actually beautiful. It almost looks like art," he says. "That's 1926. ... She looks like somebody who stepped out of a Robert Browning poem."
The image is one of over 300 in Time and Change. Published by The Ohio State University Press, the coffee table book encapsulates Ohio State's 150-year history as the university celebrates its sesquicentennial. For Sanfilippo, the press's director, it's special being a key part of the book's creation.
"Books are going to last longer than most of us," he said. "They're going to be out there forever, and it's our way of making a mark that's permanent."
The book's development began about two years ago when university archivist Tamar Chute reached out to Sanfilippo about a project regarding the sesquicentennial. After browsing through other universities' publications and the press's own works on Ohio State history, the pair decided to create a book that would take readers on a visual journey through the university's past.
After nailing down the book's general structure, Chute sifted through the University Archives, selecting images that best captured the look and feel of Ohio State through the years. To reflect the school's more contemporary history, university photographers took modern images to give the book a complete depiction of the school through time.
"For example, there's an image of High Street from 1888, and it's juxtaposed with one of High Street from today," Sanfilippo said. "That was really what we were looking for."
Advanced
Media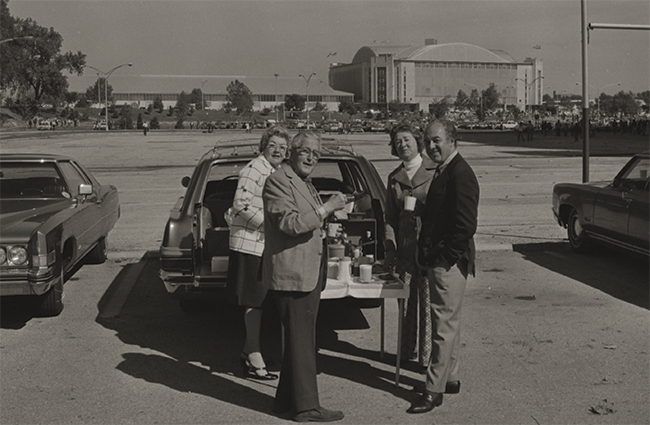 Media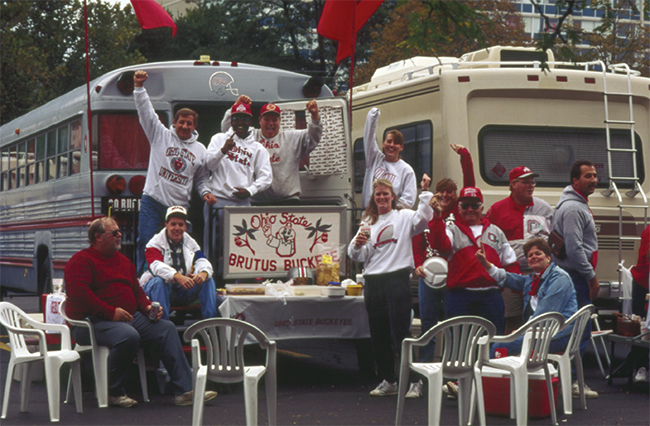 Text
Fans tailgating at a football game in 1968 (above) versus fans tailgating at a football game in 1990 (below).
---
Once the photos were selected, professor of design Paul Nini and a team of six design students set to work laying out the book. The team spent much of autumn 2018 working on the publication, finishing it in January. The students — Stephanie Homan, Gabrielle Ciminello, Madison Hartman, Kevin Murray, Chloe Stebelton and Lyndsay Sweet — all graduated with degrees in visual communication design in spring 2019.
"The design needed to reflect the past 150 years of Ohio State, so we kept everything simple and traditional in order for the photos and content to be the main focus," Homan said.
"We have really high achieving students," Nini said. "They love a challenge. They love being able to get involved with things like this."
The final product is bookended with an introduction written by President Michael V. Drake and an afterward written by Executive Vice President and Provost Bruce McPheron. In between, Time and Change is divided into themes, each with an introduction authored by Chute:
Campus
Academics and Research
Student Life
Symbols and Traditions
Athletics and Sports
Town and Gown
Commencement
"I think people are going to feel nostalgic," Sanfilippo said. "They're going to feel proud. I think those are the things that are going to attract people to the book, and hopefully they will make it a part of their library."
Time and Change is available for purchase on The Ohio State University Press websiteand will be available in bookstores around central Ohio.
"We helped condense 150 years of Ohio State into visual content that will resonate with thousands of alumni," Homan said. "Looking through the history and these photos from years ago, you realize that you're a part of this huge community and will always belong to the Buckeye family."
---