January 28, 2020
Design Students Unveil New Coca-Cola Mural in Curl Market
Image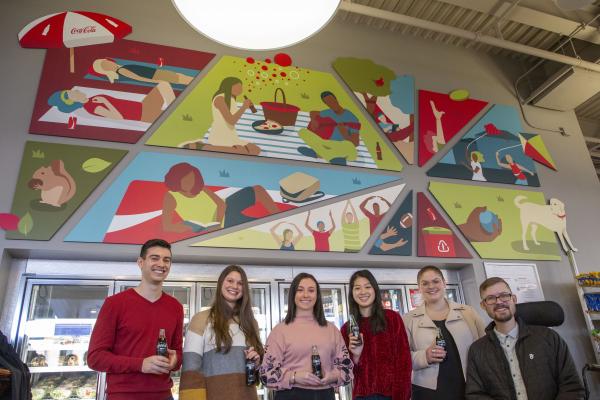 Description
5… 4… 3… 2… 1… *THUD* 
Cheers erupt as a large black curtain drops to the floor, revealing a nearly 20-foot-wide mural installed in Curl Market, a campus dining facility located at the intersection of Woodruff Avenue and College Road. Standing beneath the mural is a team of six students, each with a Coca-Cola bottle in hand, looking up and admiring their work. The team is composed of Ethan Newburger (Visual Communications Design, '21), Dustin Clark (Visual Communications Design, '20), Olivia Forsyth (Interior Design, '21), Joanne Munshower (Marketing, '22), Emily Chen (Marketing, '20) and Lauren Hole (Economics, '20).
Advanced
Text
The Design
As an extension of Ohio State's partnership with Coca-Cola, these two global organizations developed the idea for a student-designed mural that would celebrate both iconic brands. In August of 2019, the students, each of whom were employees of the Office of Student Life at Ohio State, met with Coca-Cola and Ohio State representatives to discuss the purpose of the project. The mural was to be planned, designed, and implemented by the student team, with limited guidance from their staff mentors.
The resulting mural, entitled Oval Beach, is a depiction of summer fun on the grassy centerpiece of Ohio State's Columbus campus. 
Ethan Newburger describes his illustration by explaining, "As soon as it is warm enough, Ohio State students flock to the Oval and enjoy the outdoors together! They play games, study, picnic, sunbathe and enjoy Coke products. The triangular shapes of each panel in the mural are created by the many pathways that zig-zag across the Oval."
The Design Process
Over the course of the fall semester, the students completed the project from start to finish. After brainstorming design concepts as a group, Ethan Newburger and Dustin Clark each selected a concept to design and later pitch to the Coca-Cola representatives. Olivia Forsyth led the selection process for choosing a vendor to fabricate the piece and oversaw the mural's production and installation. Joanne Munshower and Emily Chen served as project managers, regularly interfacing with Coca-Cola employees and coordinating the reveal event which took place on January 6, 2020. As an employee at Curl Market, Lauren Hole lent her expertise in how the dining facility operated and helped plan the mural reveal.
Oval Beach was produced and installed over winter break. The piece was printed on vinyl and combined with foam core. Each section is raised a half-inch from the gray wall. The mural is located above the refrigerated coolers in the center of Curl Market and can be viewed by the public during the facility's operational hours.
"Curl Market's expansive gray interior was the perfect canvas for colorful artwork, and for years the staff has been requesting a mural to liven up the space," says Olivia Forsyth. "This piece adds a personalized touch to a popular campus dining location where thousands of students congregate every day."
Joanne Munshower sums up the experience by saying, "Aside from being a great resume builder, this project has taught us valuable skills, such as client-based interaction, project management, major brand development and vendor relations."
---