May 25, 2022
Designing aging-inclusive healthcare solutions
Image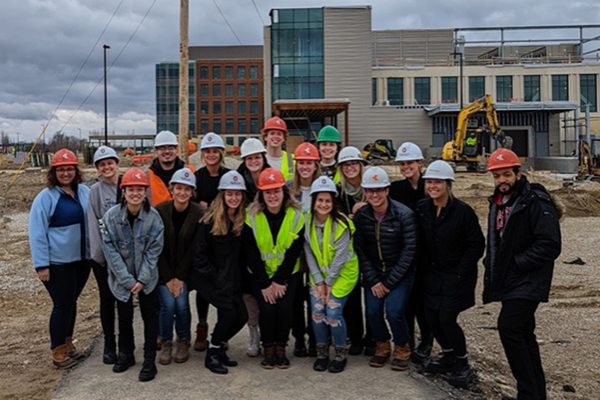 Description
Interior design studio focuses on utilizing universal design principles to design healthcare spaces that support needs of the aging population.
Human factors in interior design is the study of how humans behave physically and psychologically in relation to particular environments, products, or services. In the Spring 2022 human factors studio (DESIGN 4152) taught by Emily Valentine, third-year interior design students studied, analyzed, defined, and proposed solutions for complex design problems with an emphasis on healthcare design and our growing aging population's needs. In a recent report on aging, the WHO states that the proportion of people over 60 years old will double between 2015 to 2050 worldwide, reinforcing the need for interior designers to directly address how environments can support this population. With collaboration from the Wexner Medical Center Space and Facilities Planning, Adrian Boysel, Interior Design Manager, and Susan Long, Interior Design Planner, supported student learning through detailing their healthcare design process and implementation, coordinating guest lectures from topic experts, and providing in-depth tours of recently opened Outpatient Care New Albany and under-construction Outpatient Care Dublin.
Students used their learnings from research, empathy activities, and evaluation of the over 250,000 square foot Wexner Medical Center Outpatient Care New Albany to generate healthcare design solutions that address core needs of the aging population through universal design principles. Solutions addressed needs of older adults by utilizing appropriate circulation space and details that aid navigation, creating feelings of support and belonging, providing control over their experience, establishing feelings of comfort or easing of anxiety, and addressing color, contrast, and auditory needs. Students also considered ways to evoke the feeling of Ohio State within their unique solutions through materials, graphics, and form.
Common themes across student solutions addressed integrating seating choices with space for wheelchairs or other assistive devices to fit within the space seamlessly, using multi-height counters and pull-up desk spaces to support various comfort levels for patients, visitors, and staff, adding acoustical systems to minimize distracting ambient noise, and introducing spatial dividers for increased privacy and comfort. Many students reported from the collaboration and engagement with the Outpatient Care New Albany project and designers, a stronger understanding of designing aging-inclusive spaces and the significance of designing not just to be accessible, but to be universally beneficial.
Advanced
Selected Examples from Student Work
Text
Text
Text
Text
Text
Text
---