October 21, 2022
Generation Scrap Student Feature: Brooke Koch
Image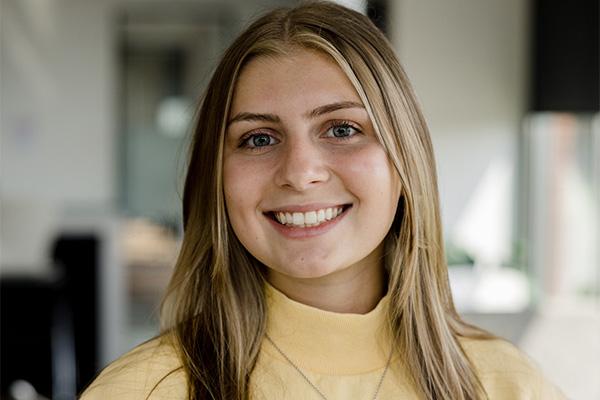 Description
GENERATION SCRAP is a special exhibit of featured projects from 17 students over a multi-year collaboration between The Ohio State University Department of Design and Mohawk Group. It explores Gen Z's attitudes and design solutions towards the global climate crisis. Design students researched and identified sustainability challenges impacting their generation to develop macro design trends that have been translated into a carpet design. Among the featured projects is Urban Waterfalls created by undergraduate Brooke Koch. Here is her story.  
  
Brooke Koch  
Major: Interior Design   
Project Title: Urban Waterfalls 
What inspired Urban Waterfalls?  
  
My project, Urban Waterfalls, was inspired by a simple gutter which is used to manage excess stormwater. I saw an art piece that had a gutter situated among trash, sticks, and dirt. It made me wonder about its meaning, and after further research, I discovered there is a severe problem with the infrastructure of the sewage system in urban environments around the world. Specifically, its impact on surrounding waterways. When a storm hits a city, the sewage system cannot hold all the water resulting in floods, which then leads to runoff, pollution, and erosion. It all seeps into our sewage system and ends up in the surrounding bodies of water (rivers, lakes, or the ocean). After a storm, these bodies of water become inhabitable for aquatic life and even humans. This fueled my passion to find a solution and it challenged me to figure out how to translate this worldwide problem into a carpet design!  
After finding my sustainability inspiration, I researched Mohawk Group's carpet lines and found their Waterways project, which focuses on restoring rivers. I was interested in expanding their project to the urban environment to stop the main source of pollution before it reaches the surrounding waters. I proposed teaming up with two non-profit organizations. The first being the LID Center, which uses vegetation to help cities restore Earth's natural hydraulic system. UrbanLinks was the second organization focused on waste management and recycling, and with the plastics collected, Mohawk could use it as the backing for the carpet.  
When developing the design of the carpet, I returned to the simple shape of a circular gutter. I decided to make two collections, Torrent and Cascade, representing the current state of our urban environments, and the future of a prosperous urban environment. For the Torrent collection, I repeated the shape to create a pattern which I overlayed to make it more dynamic. Darker and more muted colors were used to create an ominous design. For the Cascade collection, I used the same gutter pattern, though underneath it I traced wood grains with bright colors representing how nature needs to be a main priority if we want to survive in our built environments. 
Reflect on your experience working with Mohawk Group.  
  
Working with Mohawk Group was a wonderful experience. They truly value the education of future designers and helped us navigate through the world of flooring and sustainable practices. I gained from this project a deeper passion about sustainability. Generation Scrap opened my eyes to the gravity of climate change and carbon emissions. I realized that as a designer, I have the responsibility to make and choose products that will create a cleaner environment. It felt amazing to go through the process of making something that could be a small step forwards to a cleaner Earth. 
What are your career aspirations?  
  
In the future, I hope to be an interior designer working in workplace design or hospitality design! I want to create spaces that holistically have a positive impact on the people that use them and the environment they sit in. 
  
View Urban Waterfalls and several other student projects showcased in GENERATION SCRAP at the Urban Arts Space in Columbus, Ohio open now through October 29.   
 
News Filters:
---