April 20, 2020
Golden Bucks Place Top Three At Big Ten Design Challenge
Image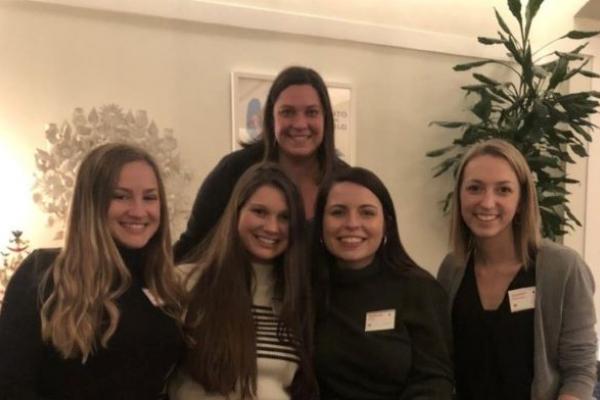 Description
The Big Ten Design Challenge is a challenge open to students of all disciplines across the Big Ten school campuses. The challenge is designed to allow students to put their education into practice, and to network with industry professionals from Herman to better develop their skills. Each university chose an informal space on their campus to be redesigned by the students. Ohio State University chose to use a space in Smith Lab.
Led by Design professor Rebekah Matheny, the Golden Bucks team; Olivia Forsyth, Katherine Hunter, Gabby McCloy and Christine Stankiewicz began to work on their design for Smith Lab. The group is comprised of design students from varying deign specializations. Christine Stankiewicz is a visual communication design major and she says that this project opened her up to a new world of "thinking about physical space rather than just two-dimensional". Matheny describes the challenge as "a great learning opportunity for our students. From the research they conducted with OSU students, seeing the product first-hand at Herman Miller, to professionally presenting their work and getting design feedback from the Herman Miller team, this experience forded them a tremendous amount of growth all while having a lot of fun and meeting design students from other universities."
The Golden Bucks placed within the top three teams nationally, leading to a trip to the Herman Miller Headquarters in Michigan. While there they had the opportunity to improve their design and, according to Katherine Hunter, learn "about our professional skills and the capability we all have in being awesome designers one day." The Golden Bucks did not take home the first-place prize, however, they will be able to carry this experience with them as they go into their professional careers.
Written by Contributor Anna Cotterman
---