February 29, 2016
Industrial Design Students headed to 2016 International Home & Housewares Show
Image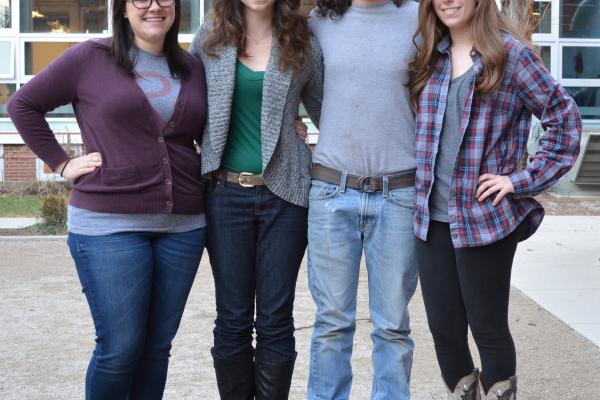 Description
Congratulations to Caterina Rizzoni, Myrna Lewis, Jean Paul Pompeo, and Ashley Fenton (Left to Right) who will attend the 2016 International Home & Housewares Show in Chicago on March 5-8, 2016, to showcase their winning designs. 
Caterina, Myrna, Jean, and Ashley devoted their Autumn Semester Industrial Design studio, headed by Professor Scott Shim, to their projects that they submitted at the close of the semester to the International Home & Housewares Show.
Jean Paul Pompeo was awarded third place, with a $1000 cash prize. Ashley Fenton, Myrna Lewis, and Caterina Rizzoni were each awarded honorable mentions, with $250 cash prizes. 
Jean Paul Pompeo designed the Lean-It Ladder. The Lean-It Ladder helps people to safely reach high areas in a kitchen. By using the kitchen counter as support instead of solely relying on the ladder's back legs, Lean-It reduces the angle and distance of reach. Slim and compact, the ladder stores conveniently. Made with few parts and of recyclable materials, the ladder considers a cradle to cradle design.
Ashley Fenton designed the Rootlet. Rootlet is an outlet plug safety holder designed to keep plugs securely in the wall outlet while vacuuming. It not only helps to keep the plug plugged in but also prevents people, children, or pets from coming in contact with an exposed plug.
Myrna Lewis designed CoolDown. CoolDown is a multi-functional cooler that solves the problem of transporting and storing gear at family sporting events. It offers a one-handed way to carry seating, food, balls or other sports gear, and even contains a separate ice chest area that allows players easy access to cold drinks when on the field.
Caterina Rizzoni designed a child-carrying solution for the mothers of babies with hip dysplasia, the Safe Sling uses an accordian-style design to accommodate the casted child, while remaining hip-safe for healthy children. The SafeSling compacts to only a few inches in width, allowing the mother to easily store and transport it when not in use. 
According to International Housewares Association (IHA), this year the International Housewares Competition received the greatest number of entries ever: 324 from 42 colleges in the U.S., Canada, Mexico, Spain, Israel and India. The 2016 entries jumped 25 percent from last year. The judging panel consisted of 14 professionals: educators, design consultants, designers at IHA member companies and a major retailer, and the founder of a design-driven company.
More than 60,000 trade professionals attend the Show to see products offered by 2,000+ exhibiting companies from around the world. Retailers from 100 countries come here to choose products that will appear in their stores and websites. Many educational programs and events bring together people from all segments of the industry. Student winners gain unique business experience from meeting professionals who work in many areas of the home goods consumer products industry.
---