March 27, 2023
Melsop to Receive One of Four Ohio State 2023 Community Engaged Scholar Awards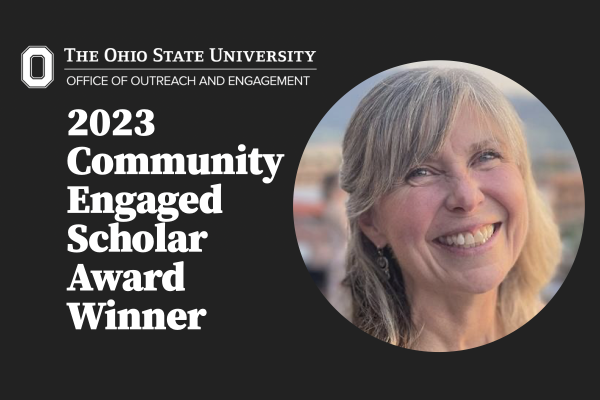 Congratulations to Associate Professor Susan Melsop on being selected by a review committee to receive one of Ohio State's 2023 Community Engaged Scholar Awards.
The Community Engaged Scholar Award recognizes faculty members who have demonstrated co-created engaged scholarship that has positively impacted communities. Community Engaged Scholars have made significant contribution to Ohio State's culture of engagement, further establishing, and strengthening the institution's commitment to communities.
Susan and other award recipients will be recognized at an awards luncheon on April 14.
Susan Melsop is an associate professor in the Department of Design, the major area coordinator for the BSD in Interior Design, and co-director of the DESIS Lab at The Ohio State University. Though her formal training is in architecture, Susan's work mediates between the scale of building, installations, furniture, and sculpture. Her research focuses on community engaged design-build, sustainable building practices, design pedagogy and reflective practices. Early and influential interests include East Asian philosophy, Buddhism, and the hermeneutics of sacred space.
Susan is recipient of numerous awards and fellowships including the Ronald and Deborah Ratner Award for Teaching Innovation, a Global Arts and Humanities DT Faculty Fellowship, a Faculty Award for Excellence in Community-Based Scholarship, an Outreach Award from the College of Arts and Sciences, and a Community-Based Award from Central Community House (a non-profit in the Old Town East neighborhood).
Susan is the creator of Design Matters, a local and international service-learning course that brings diverse communities together to co-design and build beneficial elements for community use. On the eastside, Design Matters brings urban youth from the Transit Arts program together with Ohio State students to co-design and build small scale structures and furniture for a community art center. In Sao Paulo, Brazil Ohio State students work directly with an underserved population, the PopRua and SP students in co-design processes for urban revitalization and social justice.
News Filters:
---