March 19, 2020
#OSUDesignMadness
Image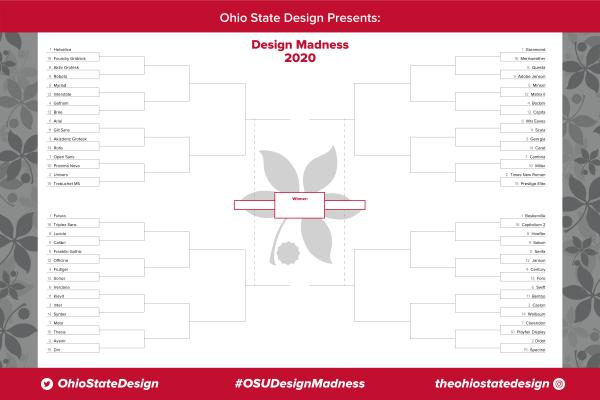 Description
COVID-19 may have canceled the annual NCAA Men's Basketball tournament, but we here at Ohio State Design are not going to let that spoil our bracket based fun. 
Several weeks back, a small and elite team of second-year Visual Communication Design students told us they wanted to figure out what the Ohio State Design community felt was the absolute best typeface around right now. They worked with their faculty to select and rank the top 64 options -- 32 Serifs and 32 San Serifs. We hatched a plan, and now we present to you... 
Design Madness 2020
Starting March 23, we will be posting polls to our Instagram Stories (@TheOhioStateDesign) and we need you to to vote each day. Your votes will determine which typefaces move on from each round and your votes will determine which will win it all! 
You can download a printable version of the bracket if you'd like to make your own predictions. Feel free to share them using #OSUDesignMadness if you like.
There are no prizes other than the type-nerdy pride of seeing your favorites keep winning. Once a match up is posted to our story, you will only have 24 hours to get your votes in. Be sure to follow us on Instagram now so you do not miss any of the excitement and tell the other typophiles you know to do the same! 
Advanced
Text
2020 Competition Schedule
---
Stage of 64 
VOTING: Monday, March 23 to Thursday, March 26
RESULTS: Friday, March 27
---
Stage of 32 
VOTING: Monday, March 30 to Tuesday, March 31
RESULTS: Wednesday, April 01
---
Stage of 16 
VOTING: Thursday, April 02
RESULTS: Friday, April 03
---
Stage of 8 
VOTING: Monday, April 06
RESULTS: Tuesday, April 07
---
Stage of 4 
VOTING: Wednesday, April 08
RESULTS: Thursday, April 09
---
Final 2 
VOTING: Thursday, April 09
CHAMPION ANNOUNCED: Friday, April 10
---