November 3, 2023
Pieter Jan Stappers visits Ohio State Design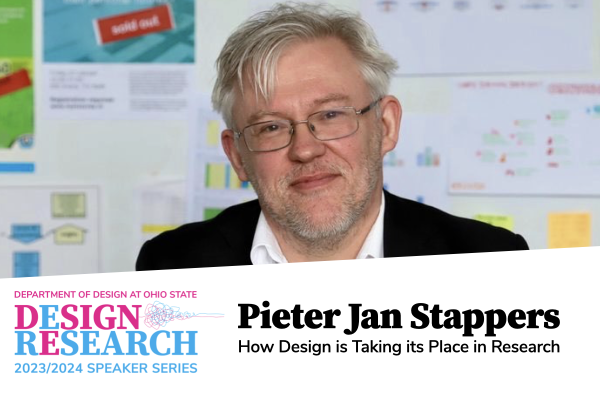 Pieter Jan Stappers, a distinguished professor hailing from Delft University of Technology in the Netherlands, made a remarkable journey to our campus. He serves as a professor of Design Techniques within the Faculty of Industrial Design Engineering. Professor Stappers is widely recognized for his influential contributions to discovery-based qualitative research, with research through design, experiential prototypes, and contextmapping being the cornerstones of his work.
Recently, Professor Stappers graced us with his presence as part of the Department of Design's Design Research Speaker Series. During his lecture, he delved into the ever-evolving role of design in university research, underscoring its essential relevance across all research disciplines, transcending the boundaries of mere aesthetics.
Upon his arrival over the weekend, Pieter Jan Stappers had the opportunity to reconnect with his longtime collaborator, Professor Elizabeth Sanders, with whom he has worked for over two decades. During his stay, Professor Sanders took him on a tour of our "impressive campus," a description he bestowed upon Ohio State. To combat jet lag, Professor Stappers engaged in early morning strolls and took note of the intriguing little delivery robots that have become a ubiquitous presence on campus. He mused, "They are both cute and interesting, and it is especially interesting to see how people are used to having them about. Good that you 'live with the technology.'"
Stappers also reminisced about a cherished memory from his visit to downtown Columbus a decade ago. He recalled a visit to the majestic old cinema theater to watch "Gone with the Wind," an experience that included an organ player rising from the ground during the intermission. His evening was further enhanced when he joined Yvette Shen for dinner, a gathering he described as "another interesting and very enjoyable meeting."
Summing up his week at Ohio State, Professor Stappers expressed his delight in holding the lecture and interacting with a diverse audience that included current students, staff, and recent graduates. He even encountered someone he had met 20 years ago, underscoring the interconnected nature of the world. Reflecting on his experiences, Pieter Jan Stappers shared his enthusiasm for joining a class during the week, remarking, "I can say it's really nice to have been here a few days, feel the vibe of the place, speak with people about design and research, and learn how university life is here."
If you missed Professor Stappers' lecture, you can watch it below
News Filters:
---