May 1, 2020
Second-Year Industrial Design Students Explore DIY PPE
Image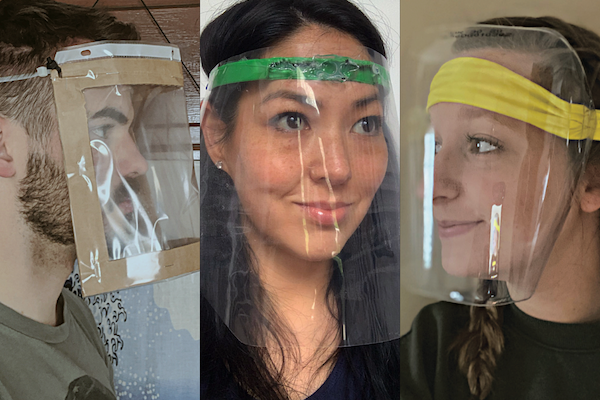 Description
Like so many instructors, Adjunct Professor Nate Ames (Director of the Center for Design and Manufacturing Excellence) found himself facing a challenge in March, 2020: quickly converting his sophomore-level industrial design course on Materials and Processes to a virtual learning experience. Because contributing something positive toward the largely unknown future regarding the availability of personal protective equipment at the time motivated his students, he created a learning opportunity that sent them to explore the materials and processes that were at their fingertips.
From teamwork and creative exploration came several face shield designs that can be fabricated from waste and everyday objects like resistance bands and liter bottles, or zip ties and report covers for papers that no longer destined to be printed and turned in on campus this semester! We are sharing the students' fabrication instructions below for your use, because together as Buckeyes we will meet the world's evolving challenges — today and tomorrow.
Projects like these and the ingenuity they invite are typical of the ways that our students and faculty have embraced the challenge of being creative in isolation. Technology, knowledge, and teamwork are proving to still be a winning combination!
Advanced
---