February 27, 2023
Two Industrial Design students partaking in new semester abroad program in Montréal
Image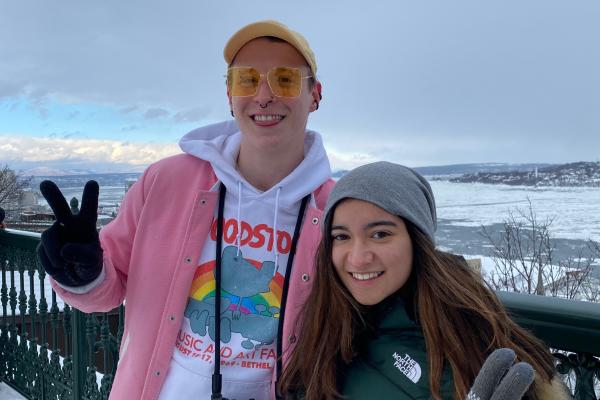 Description
In spring 2023, the Department of Design relaunched its semester abroad program through a newly established partnership with the Université de Montréal. Every spring semester 1 to 2 students enrolled in the Industrial Design major will have the opportunity to go study and enjoy the winter season in beautiful Montréal, Canada. Our department and remaining industrial design students will also enjoy the benefits of this program as we will reciprocally host students from the Université de Montréal starting spring 2024.

This year, Jackie Brandon, third-year Industrial Design, and Mylo Johnson, fourth-year Industrial Design, are benefiting from this opportunity.
According to Dr. Sébastien Proulx, coordinator of the Industrial Design major, who spearheaded this initiative:
Studying abroad is of great benefit for design students. Good designers are open-minded people with a breadth of cultural references in their toolbox. The Université de Montréal was selected as our partner for the relaunch of the semester abroad program for several reasons. For one, we looked for a word-class institution that would offer students a different yet equivalent academic experience to what Ohio State provides. Spending a semester abroad is certainly fun, but the academic component remains central. All courses taken at the partner institution meet Ohio State standards and will be credited. Partaking in the semester abroad program is not impacting graduation timelines for the students involved. The Université de Montréal is a top-ranked design school set in a large comprehensive research university, just like Ohio State.
We were also mindful of finding a setting that would provide students with exposure to diversity and rich cultural experiences. We get that with Montréal because it is a French-speaking institution. That means we require our students to commit and learn French prior to their departure. While still in North America, the Province of Québec is a very distinct living environment, completely different than Columbus. So we hope our students will grow and benefit from this experience. Finally, one key criteria for us to move forward with the program was to ensure that it remained accessible to our students. Montréal was a good partner on this front as it is driving distance and the cost of living is lower than Columbus. Combined with the generous financial aid available through Ohio State, we believe we can offer our students an incredible opportunity that remains accessible.
News Filters:
---