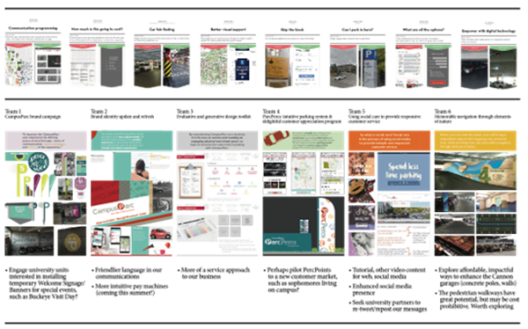 An academic collaboration between CampusParc and the Department of Design by engaging students to explore opportunities and propose solutions (environmental and digital) that would: contribute to an overall positive experience with the university; contribute to customer comfort level in approaching and finding parking and reaching their destination; improve the overall customer journey and CampusParc brand perception.
---
 Keywords
Customer Journey; Service Design; Brand Design; Way-finding 
---
Advising Team  
Peter Kwok Chan 
Paul Nini 
Adam Fromme 
CampusParc Brand Team 
---
Student Team
Undergraduate (senior level) and graduate design students 
---
Preferred Qualifications and Skills
Ability to visualize concept scenarios highlighting customer's interaction and situations. 
Understanding of wayfinding principles and information system design.
Interested in multidisciplinary collaboration and participating in field/user research. 
Proficient in graphic design software such as Adobe Creative Suite to create visually appealing and engaging visual materials.