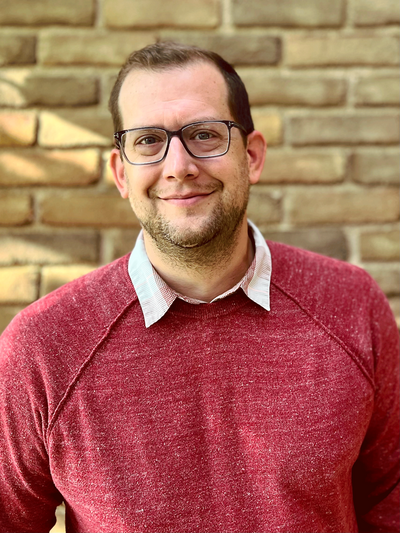 Adam Fromme
Instructor
He/Him
125 Hayes Hall
108 North Oval Mall, Columbus, Ohio 43210
Areas of Expertise
Design Education
Visual Communications Design
Design for Public Life
Aging and Accessible Design
Environmental Graphic Design
Education
M.F.A. in Design Research and Development, The Ohio State University (2018)
B.S.D. in Visual Communication Design, The Ohio State University (2006)
Adam Fromme holds an M.F.A. in Design Research and Development (with a Specialization in Aging) and a B.S. in Design both from The Ohio State University. He has worked in the design industry for over 20 years. During that time he developed an expertise in Design for Public Life, looking at how environments and information are understood as approachable, intuitive, equitable, and valuable. He uses this perspective to translate the needs of people into features that support everyone's participation in public life. His research agenda addresses quality of life, healthy-supportive environments, access to health care, and providing basic needs.
At Ohio State he lectures in the College of Arts and Sciences (Department of Design) and College of Nursing (Master of Healthcare Innovation Program). He is a contributing member of Ohio State's DESIS Lab. His familiarity working with new-to-design students also led to co-developing the Innovation Experience Program for non-design teams seeking creative problem-solving methods and tools for in the workplace, currently used by Ohio State's Office of Advancement.
He also Co-founded and served as Principal of The Center for Inclusive Aging and Design Research, researching and addressing age-related design needs. In this role, he advocated for distinguishing the difference between designing for availability versus accessibility. His experience designing with older adults has led to co-authoring the book "How to Start a Conversation on Driving, Mobility, and Aging" and developing "The Age-friendly Evaluation of Public Places."
Adam is also a board game design hobbyist and an active hiker with his wife and children set on exploring the entire US National Park system, having visited over 100 (of the 423) park sites and affiliated areas.
Recent publications
Fromme, A. "Student Mental Health and the Design Curriculum: Student-led Solutions for Creating a Culture of Care" Design Principles and Practices (DPP) Sixteenth International Conference: Back to Life: Seeking Vision and Purpose in Principles and Practice. Newcastle, Australia. 19–21 January 2022.
Lynn, L.; Heitzenrater, R.; Karasinir, C.; Fromme, A.; et al.. (Forthcoming) "A Near Real Time Web-based Visualization of Hospitalized COVID-19 Patient: VIRUS-COVID-19 Registry Dashboard." 2021
Proulx, S., Fromme, A. et al.. (2021) "Rethinking User Experience of Parking Garage. Exploring Innovative Suicide Prevention Strategies Through Motivational Design." Di Lucchio, L, & Imbesi, L. (Eds.) Proceedings of the Design Culture(s), 2020 Cumulus Conference. Rome: Sapienza University.
Fromme, A. and Valentine, E.. "Urban Housing Built for All, The Lasting Impact of Age-friendly Design Principles" 2019 Community Engagement Conference. Columbus, OH. 23–24 January 2019. 
Link to Abstract
Fromme, A.. "The Four Pillars of Age-friendly Design" Southeastern Association of Area Agencies on Aging (SE4A) Annual Conference. Louisville, KY. 30 September–3 October 2018.
Bell, E.; Fromme, A.; and Matheny, R.. (2018). How to Make Collaborative Learning Environments Meaningful for University Students. Research funded by M+A Architecture.
Link to Article
Fromme, A.. (2018). Co-designing with Older Adults to Create an Age-friendly Evaluation Tool for Public Places. 
Link to Thesis
Bell, E.; Bryan, M.; Eyink, K.; Fromme, A. and Matheney, R.. "Engage Place to Engage People" 7th Annual Innovate Conference: Forward. Columbus, Ohio. 11 May 2018. 
Link to Abstract
Bell, E.; Fromme, A. and Matheny, R.. (2017). Three Approaches to Lighting for Senior Living. Research funded by M+A Architecture. 
Link to Article
Fromme, A.. "How to Use Universal Principles to Support Older Adults in Public Places" Universal Design Summit 6–Inclusive Communities: Housing and Public Spaces. St. Louis, MO. 13–14 November 2017.
Fromme, A. and Chan, P.. "Driving Home Design Research: A Collaborative Design Case Study for Developing Positive Parking Experience on a University Campus" International Association of Societies of Design Research (IASDR) Conference–re: research. Cincinnati, OH. 31 October–3 November 2017. 
Link to Paper
Fromme, A.. "Why Motivations Matter More than Measurements: How Design Thinking Can Inform Future Experiences for an Aging Population" 2017 Society for the Study of Human Biology (SSHB) joint meeting with the International Association of Physiological Anthropology (IAPA) Symposium: Human Biology of Climate Change. Loughborough, UK. 12–15 September 2017.
Fromme, A.. "Public Space Design for an Aging Society," 2017 Optimal Aging Conference. Louisville, KY. 11–13 June 2017.
Fromme, A.; Alexander, G.; Allen, C.; Moore M.; Roth, B.; Willard, J.; Ardiyanto; and Shah, T.. (2017). How to Start a Conversation on Driving, Mobility, and Aging. (Self-published)
Link to Book
Fromme, A. and Haase, J.. "Exploring the Next Urban Condition," 12th European Academy of Design Conference–Design for Next. Rome, Italy. 12–14 April 2017. 
Link to Paper
Fromme, A.. "The Process of Exploring the Next Urban Condition," Design Incubation–Colloquium 3.3. Kent, OH. 11 March 2017.
Link to Abstract
People Filters: