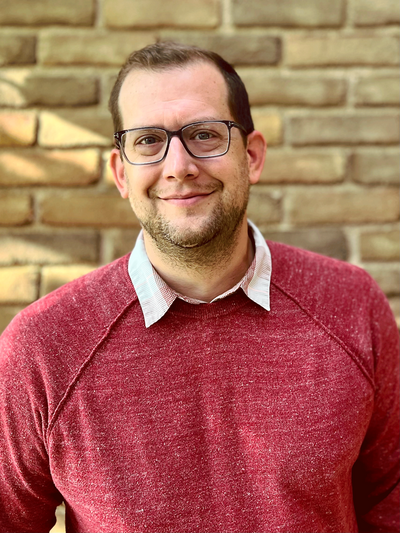 Adam Fromme
Assistant Professor of Teaching
He/Him
124C Hayes Hall
108 North Oval Mall, Columbus, Ohio 43210
Areas of Expertise
Design Education
Visual Communications Design
Design for Public Life
Aging and Accessible Design
Environmental Graphic Design
Education
M.F.A. in Design Research and Development, The Ohio State University (2018)
B.S.D. in Visual Communication Design, The Ohio State University (2006)
Adam Fromme is an Assistant Professor of Teaching in the Department of Design at The Ohio State University.
Adam has been a faculty member at Ohio State since 2014. He teaches graduate and undergraduate courses in Design Thinking, Design Research, and Visual Communication design. In addition to teaching in the College of Arts and Sciences (Department of Design), he regularly lecturers in the College of Nursing (Master of Healthcare Innovation Program) and has guest lectured in the College of Medicine (School of Health and Rehabilitation Sciences). He is a contributing member of Ohio State's DESIS Lab.
His teaching focuses on the student's development into creative critical thinkers (and having a 'seeker's' mindset), so they can add value to workplace projects by efficiently and effectively addressing complexity (surrounding unmet or unrealized needs of people) and ultimately become good decision makers. The aim of this work is to prepare them to solve tomorrow's problems.
Because design is used to solve complexity, it too can feel complex—and confusing and overwhelming. To put these feelings to ease, he focuses on how people solve problems (over introducing various more complicated design process frameworks). Then when problems grow in complexity, it becomes easier to explain how designers seek solutions, for example using the mindset of Advocate and Moderator. Advocates understand what is most important to their people. Moderators are able to find compromise while still satisfying their intent. Together, these perspectives provide an easier entry into design activities:
• Envisioning activities that consider future experiences
• Planning activities that define problems and set goals
• Creating activities that realize possible solutions
• Sharing activities that communicate the value of a particular solution
• Reflecting activities that oversee the solution in its environment
Recently, he expanded his focus beyond traditional students. In 2021 he co-developed the Innovation Experience Program. This 6-month program is for office teams seeking to incorporate creative problem-solving methods and tools in the workplace. The training program is currently used by Ohio State's Office of Advancement. Some of his writings about design for the workplace can be found on Medium.
Adam has worked in the design industry for over 20 years as a graphic designer. His work seeks to better understand how the design of environments and information can address quality of life, healthy-supportive environments, access to health care and provide basic needs. Within this broad topic of Social Design, an ongoing area of interest for him is Design for Public Life (fostering active participation in community activities). This topic looks at how common public places from coffee shops to libraries to parks are understood as approachable, intuitive, equitable, valuable and safe. Adam uses this perspective to translate the needs of people (particularly vulnerable populations) into transformative features that support everyone's participation in public life.
He also serves as a periodic guest writer for Brand New, a leading industry source for reviews of corporate and brand identity work.
Adam is a board game design hobbyist and an active hiker who seeks adventures into the backcountry of America's National Park system with his wife and three children.
Recent publications
Fromme, Adam. "Goldilocks and three other stories about Design Thinking—and how being creative can change how you do what you do." Big Ten Development Conference. Columbus, OH. 8–10 August 2022.
Link to Article
Fromme, A. "Student Mental Health and the Design Curriculum: Student-led Solutions for Creating a Culture of Care" Design Principles and Practices (DPP) Sixteenth International Conference: Back to Life: Seeking Vision and Purpose in Principles and Practice. Newcastle, Australia. 19–21 January 2022.
Proulx, S., Fromme, A. et al.. (2021) "Rethinking User Experience of Parking Garage. Exploring Innovative Suicide Prevention Strategies Through Motivational Design." Di Lucchio, L, & Imbesi, L. (Eds.) Proceedings of the Design Culture(s), 2020 Cumulus Conference. Rome: Sapienza University.
Fromme, A. and Valentine, E.. "Urban Housing Built for All, The Lasting Impact of Age-friendly Design Principles" 2019 Community Engagement Conference. Columbus, OH. 23–24 January 2019. 
Link to Abstract
Fromme, A.. "The Four Pillars of Age-friendly Design" Southeastern Association of Area Agencies on Aging (SE4A) Annual Conference. Louisville, KY. 30 September–3 October 2018.
Bell, E.; Fromme, A.; and Matheny, R.. (2018). How to Make Collaborative Learning Environments Meaningful for University Students. Research funded by M+A Architecture.
Fromme, A.. (2018). Co-designing with Older Adults to Create an Age-friendly Evaluation Tool for Public Places. 
Link to Thesis
Bell, E.; Bryan, M.; Eyink, K.; Fromme, A. and Matheney, R.. "Engage Place to Engage People" 7th Annual Innovate Conference: Forward. Columbus, Ohio. 11 May 2018. 
Link to Abstract
Bell, E.; Fromme, A. and Matheny, R.. (2017). Three Approaches to Lighting for Senior Living. Research funded by M+A Architecture.
Fromme, A.. "How to Use Universal Principles to Support Older Adults in Public Places" Universal Design Summit 6–Inclusive Communities: Housing and Public Spaces. St. Louis, MO. 13–14 November 2017.
Fromme, A. and Chan, P.. "Driving Home Design Research: A Collaborative Design Case Study for Developing Positive Parking Experience on a University Campus" International Association of Societies of Design Research (IASDR) Conference–re: research. Cincinnati, OH. 31 October–3 November 2017. 
Link to Paper
Fromme, A.. "Why Motivations Matter More than Measurements: How Design Thinking Can Inform Future Experiences for an Aging Population" 2017 Society for the Study of Human Biology (SSHB) joint meeting with the International Association of Physiological Anthropology (IAPA) Symposium: Human Biology of Climate Change. Loughborough, UK. 12–15 September 2017.
Fromme, A.. "Public Space Design for an Aging Society," 2017 Optimal Aging Conference. Louisville, KY. 11–13 June 2017.
Fromme, A.; Alexander, G.; Allen, C.; Moore M.; Roth, B.; Willard, J.; Ardiyanto; and Shah, T.. (2017). How to Start a Conversation on Driving, Mobility, and Aging. (Self-published)
Link to Book
Fromme, A. and Haase, J.. "Exploring the Next Urban Condition," 12th European Academy of Design Conference–Design for Next. Rome, Italy. 12–14 April 2017. 
Link to Paper
Fromme, A.. "The Process of Exploring the Next Urban Condition," Design Incubation–Colloquium 3.3. Kent, OH. 11 March 2017.
Link to Abstract
People Filters: