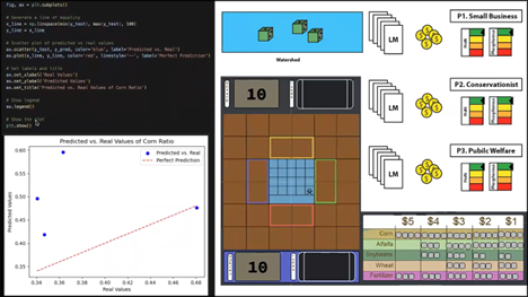 AI research in real-time strategy (RTS) games has a rich history that extends back as far as 2001 where the Association for the Advancement of Artificial Intelligence recognized RTS games as an excellent model for AI research. By applying machine learning and AI algorithms to existing data on land management, our project seeks to create game mechanics based on true-to-life scenarios that players can interact with to help communicate the complexity and effects of policy making as well as other difficult-to-see interactions between humans and their environment.  
Our partners and domain experts from the School of Environment and Natural Resources and the Department of Agricultural, Environmental, and Development Economics have focused our attention on the Western Lake Erie Basin, especially as it relates to farming, agricultural runoff, water quality, and general ecological degradation and conservation. This transdisciplinary research team seeks to create both a paper prototype (i.e., boardgame), as well as a digital version for broader dissemination, that helps illustrate the aggregate impact of micro-decisions made by various decision-makers in the shared spaces of land management. 
A longer-term goal is that Green Acres will serve as a framework to build upon and expand into other areas of research where communicating the challenges of resource management and risk assessment are paramount (e.g., environmental justice, natural resources, animal husbandry, agriculture, development economics, etc.) 
---
Keywords
Game Design; Cological Wellbeing; AI; Interdisciplinary Collaboration 
---
Advising Team
Kyoung Lee Swearingen
Scott Swearingen
Parinaz Naghizadeh (Integrated Systems Engineering, Electrical & Computer Engineering) 
Animation & Games Research Group 
---
Current Students Working on the Project
Thomas Ellsworth, MFA Candidate 
Raman Ebrahimi, PhD Candidate (Electrical & Computer Engineering) 
---
Profile Description and Preferred Qualifications 
Student having knowledge, study, or experience in tabletop gaming and/or video game design with an emphasis in at least two of the following: mechanics, art, engineering, and narrative design. Student should be willing to work with an interdisciplinary team comprised of faculty and students from various departments and be able to receive and apply feedback through rapid iteration. 
---
Additional Information
Green Acres has won nearly $60,000 over multiple consecutive funding periods from the "Artificial Intelligence in the Arts, Humanities, and Engineering: Interdisciplinary Collaborations" grant at The Ohio State University.