June 3, 2020
Designers do — a message from Dr. Mary Anne Beecher
Image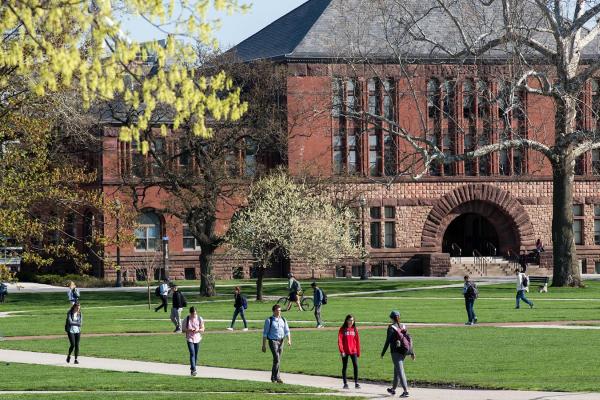 Description
Ohio State Design Students, Faculty, Staff, Alumni, and Friends:
Singers sing. Writers write. Designers do. They do not sit idly by while others take on the world's burdens. Now, as we work our way back to the public life that is necessary to the formation of healthy communities, we must face the vivid reality that social injustices thrive—even in the midst of a pandemic. How can we best use our ability to envision a more desirable future for us all? How can we help give form to the visions of others who are also working to create an inclusive and just world?
We try hard to nurture diversity and fairness within our own ranks, but today, that's just not enough. Wherever you are, go out of your way to show the people in your network—whomever they are—that you care about them. Reach out to people with whom you may not connect regularly and listen to their stories with empathy. Use your creativity to contribute peaceful and healthy messages and experiences to our world.
Dr. Mary Anne Beecher, Chairperson
Department of Design | College of Arts and Sciences
The Ohio State University
Resources
---
Please instruct students, faculty, and staff to report any and all acts of discrimination to the Office of Institutional Equity at equity.osu.edu.
For Students
The Office of Student Life's Counseling and Consultation Service (CCS) remains available to our students. If students need to speak with a counselor urgently or need other resources, please call 614-292-5766 at any time. After hours, press 2 to be connected to a counselor. 

Students may also access the Buckeye Peer Access Line (PAL), which operates Monday through Thursday from 8 p.m. to midnight, and Friday from 2 to 6 p.m.
The Wilce Student Life Health Services Center remains open and students may access their services by appointment here.

The Collegiate Recovery Community will continue serving any Ohio State student in or seeking recovery. In an effort to support social distancing efforts, all support services will be provided virtually. If you are interested in learning more about the services being provided and how to access the different services, please email recovery@osu.edu.

Students may access the Ohio State: Wellness app via download for iOS or Android devices.
For Faculty & Staff
The Ohio State Employee Assistance Program (EAP), in partnership with ImpactSolutions, provides resources for employees and their families in times of need. All services are confidential, complimentary and provided by experienced, licensed mental health professionals. EAP services are available to benefits-eligible faculty and staff, members of their household, parents and parents-in-law, even if you did not enroll in an Ohio State medical plan. Learn more about EAP at osuhealthplan.com/eap.

The tips, guides and wellness resources related to COVID-19 are also excellent resources for addressing anxiety in general and can be found through the Office of Human Resources' new Keep Well website, the Health and Wellness page and Your Plan For Health.
For Everyone
The Franklin County Suicide Prevention Services and the National Suicide Prevention Lifeline are available 24 hours a day, seven days a week. They can help anyone who is concerned about suicide – either for yourself or on behalf of another.
Franklin County Suicide Prevention Line: 614-221-5445 
National Suicide Prevention Lifeline: 1-800-273-8255 (TALK)
Crisis Text Line: Text 4hope to 741741
 
A list of Ohio State suicide prevention resources can be found at https://suicideprevention.osu.edu/get-help/

The Department of Women's, Gender and Sexuality Studies maintains a list of Queer People of Color (QPOC)-friendly mental health care services in the area including suicide prevention resources.

The Ohio State: Wellness app is designed for students but offers tips and guidance useful for all members of our community.
---