November 20, 2023
Fabienne Münch Co-Curates Exhibition Showcasing the Work of Women Textile Designers and Artists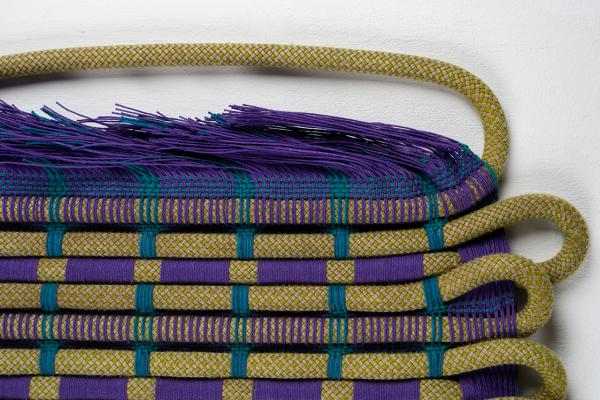 Textile Design Now / Design textile actuel
Dates: November 30, 2023 until February 11, 2024
Opening: November 29, 2023 from 6pm to 9pm
Curators: Louise Pelletier, Professor at the École de design, UQAM
Fabienne Münch, Professor and Chair of the Department of Design, Ohio State University, Columbus, USA,
Katharina Sand, Visiting Professor at the Akademie Mode & Design (AMD), Munich, Germany.
Guest curator (history component): Christina Contandriopoulos, professor at the Département d'histoire de l'art, UQAM, in collaboration with theo tyson, Curator of Fashion Arts at Boston's Museum of Fine Arts and Rebecca Leclerc, doctoral student in Études et pratiques des arts, UQAM.
An exhibition showcasing the work of women textile designers and artists!
The creation of soft materials will be in the spotlight at UQAM's Centre de design with the exhibition Textile Design Now. In addition to the exhibition, a symposium entitled Textiles Beyond Crafts will take place on November 30th and December 1st 2023 and will include lectures, workshops and round tables.
"Soft materials are part of everyday life in cultures and societies across the globe. They are an inexhaustible source of inspiration and innovation. We are delighted to present this exhibition which celebrates women artists and designers who are passionate about materials. It has been a great intellectual and emotional pleasure to put together this exhibition with Louise Pelletier, Katharina Sand, Christina Contandriopoulos and the team at the UQAM Design Centre."
-Fabienne Münch
Textile Design Now showcases 23 works by women textile artists and designers from fourteen countries: Austria, Canada, France, Germany, Japan, Kazakhstan, Mexico, Netherlands, Norway, Senegal, Singapore, Sweden, Taiwan and the United States. This unique gathering will provide an opportunity to discover several previously unseen pieces.
At the cutting edge of textile design, these creators engage in varied and unexpected practices including weaving, 3D printing, sound-generating and solar textiles, bacterial dyeing, as well as the creation of replacement organs woven by silkworms.
The spatial arrangement of the textile works within the exhibition highlights the intertwining of tradition and innovation, experimental practices as well as the emotional potential of soft materials. A historical section and a selection of books offer insights into the rich origins of textile practices and the complexity of their cultural and societal roles.
Artists and designers featured in the exhibition
A+N Studio (Alissa van Asseldonk & Nienke Bongers), Yosi Anaya, Micheline Beauchemin, Estelle Bourdet, Felecia Davis, Aïssa Dione, Cécile Feilchenfeldt, Carla Hemlock, Cindy Hsin-Liu Kao, Julia Koerner, Mari Koppanen, Louise Lemieux Bérubé, Anke Loh, Ptolemy Mann, Julia Moser, Gulnur Mukazhanova, Veronica Ranner, Marie Schumann, Reiko Sudō, Hiroko Takeda, Suzanne Tick, Pauline van Dongen.
The exhibition is open to the public from November 30th, 2023 until February 11th 2024, The exhibition will be closed for the winter holiday period from December 18th, 2023 until January 9th, 2024.
Symposium Textiles Beyond Crafts
The exhibition will be accompanied by the symposium Textiles Beyond Crafts which will take place on November 30th and December 1st, 2023. The symposium aims to create a dialogue within emerging practices in textile design. Highlights include lectures by exceptional women including the Mohawk textile artist, Carla Hemlock, the designer and director emeritus of Japan's NUNO Textiles, Reiko Sudō, as well as the Curator of Fashion Arts at the Museum of Fine Arts in Boston, theo tyson.
Symposium Program: http://textileaudeladelartisanat.uqam.ca/ The symposium is open to all.
Places are limited: Registration is optional, but priority given to those who register.
Location: Pavillon de design, UQAM, Room DE-4580, 1440 Rue Sanguinet, Montréal, Métro Berri-UQAM
News Filters:
---