October 20, 2022
Generation Scrap Student Feature: Fabian Perez
Image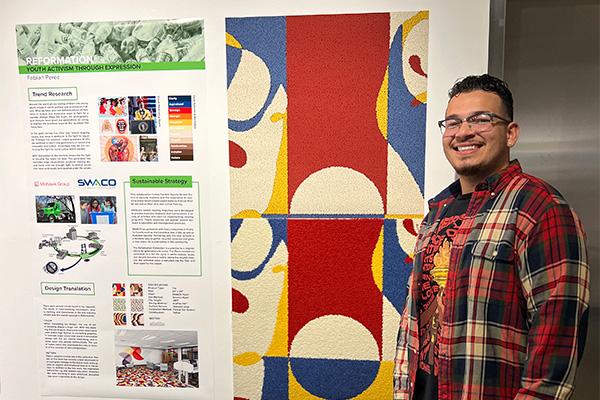 Description
GENERATION SCRAP is a special exhibit of featured projects from 17 students over a multi-year collaboration between The Ohio State University Department of Design and Mohawk Group. It explores Gen Z's attitudes and design solutions towards the global climate crisis. Fabian Perez and several other Design students researched and identified sustainability challenges impacting their generation to develop macro design trends that have been translated into speculative carpet design. 
 
Fabian Perez 
Major: Interior Design  
Project Title: Reformation 
How did you become a part of GENERATION SCRAP? 
 
In Spring semester of 2021, I was introduced to the collaboration with Mohawk Group and Rebekah Matheny's Material Specialization class. In this collaboration, students were asked to conduct trend research within the Gen Z population at that time, and tie in a sustainable outreach component to create a carpet design. My project, Reformation, focused on social justices and youth activism through expression.  
What inspired Reformation? 
 
Around the world we see children and young adults engaged in social, political, and economical matters. We have seen demonstrations of their voice in unique and expressive ways to fight for societal change. Ways like music, art, photography, and lifestyle, and it has given Gen Z an outlet to express their emotions towards the injustices of marginalized groups.  
My project focused primarily on the pressure Gen Z has applied towards the fight of equality. In my research, I found proof of their voices being heard to fight climate change, racism, the demands to large corporations to reduce their role in carbon rates, and the decades long debates that have been pushed aside. I discovered visual evidence of trends that have come to life in expressive justices. The works of color-blocking, minimalism, binary clothing, and movements in the arts have greatly aided the overall concepts of Reformation. 
With sustainability being a topic of discussion in several industries, Reformation creatively aids Franklin County communities by collaborating with SWACO. It is a recycling company whose goal is to educate youth on waste, and how society can help our planet. Local students can recycle materials in their homes and schools, and that material could then be used in Mohawk Groups' carpet fibers. 
Reflect on your experience working with Mohawk Group. 
 
Working with Mohawk Group was an amazing experience. When it came to designing my carpet tiles, I was given creative freedom, and Mohawk supplied several colorways that supported my concept of warm, heavy saturated colors that were seen in marketing and high fashion. As well as neutral palettes that represented the variety of skin complexions. My patterns were of the highest importance for me in the design portion. The use of line work gave homage to "less is more" and supplied an organic and emotional feature in the design. In addition, the rug was to support education; therefore, the color blocking was similar in design to the rugs we see in traditional classroom settings.  
What are your career aspirations? 
 
Education has always been a subject that I hold close to me, with Reformation, I was able to create a project that could potentially be given back to communities like ones that I grew up in. My future career aspiration is to work in a firm that designs Education spaces, but also shares the same morals and goals that I hold true to myself.  
 
View Reformation and several other student projects showcased in GENERATION SCRAP at the Urban Arts Space in Columbus, Ohio open now through October 29.  
News Filters:
---