April 7, 2022
New Assistant Professor, Shadrick Addy
Image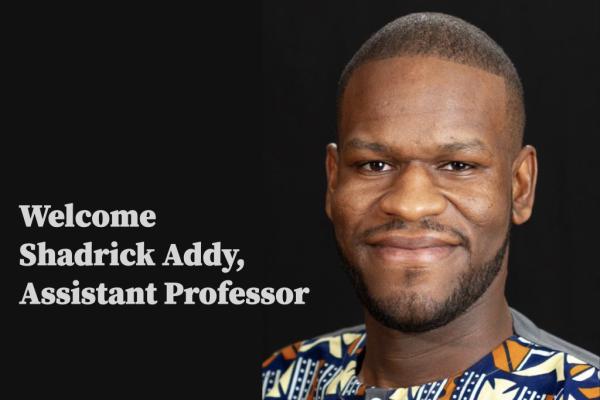 Description
ACCAD and the OSU Department of Design are pleased to welcome Shadrick Addy as a full-time faculty member. Shadrick will hold an Assistant Professor appointment with Design and ACCAD beginning September 1, 2022.
Shadrick joined our community in August of 2019 as a visiting Assistant Professor. His academic background includes an MFA from NC State College of Design. His master's thesis focused on the implementation of mixed reality systems in historic house museums. Shadrick stated when he arrived that his keen interests are in "re-creating historical experiences, encouraging empathy and facilitating social interaction in educational and cultural environments". 
At OSU Shadrick has enthusiastically engaged in teaching and creative research, impacting both undergraduate design students, and graduate student thesis work, co-teaching courses with Computer Science faculty and influencing ACCAD's research community with his expertise in the areas of immersive mixed reality systems, user experience, user interface, and interaction design.
Shadrick added, "I'm excited about the opportunity to join the university as a full-time faculty member. I want to thank Dean Dana Renga and Dean David Horn for giving me this opportunity. I sincerely appreciate the guidance Dr. Mary Anne Beecher and Professor Maria Palazzi provided me during this process and their contribution to my professional development. I'm excited to continue working with my colleagues and students in the Department of Design and ACCAD."
The ACCAD community looks forward to our continued collaboration and engagement with Assistant Professor Addy.
The following video highlights a collaborative research project Shadrick and his students worked on with the Ohio History Connection that explores the use of immersive technology to enrich museum visitation. CSE and Design Students in ACCAD 7103 (Spring 2021) and VCD students in Design 4400 (Autumn 2021) contributed to different aspects of the project. In ACCAD 7103, students designed the initial prototype of the AR application. Design 4400 students built on the prototype by envisioning how Ohio History Connection could integrate it within Ohio Village museum exhibitions.
Advanced
---