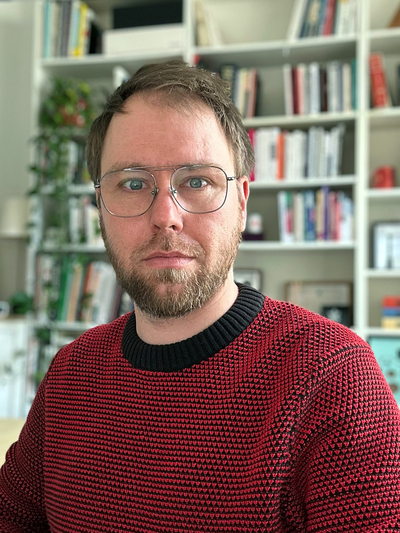 Sébastien Proulx, Ph.D.
Associate Professor | Graduate Studies Chair | Industrial Design Coordinator
Pronouns: He, Him, His / Honorific: Dr.
125B Hayes Hall
108 North Oval Mall
Columbus OHIO 43210
Office Hours
Friday 10 AM to Noon
Areas of Expertise
Industrial Design
Social Design
Design Studies
Public Health
Moral Sociology
Care Ethic
Education
Postdoc in Public Health, IRSPUM, Université de Montréal
Ph.D. Design, Université de Montréal
M.A.Sc. Design and Complexity, Université de Montréal
B.F.A. Graphic Communication, Université Laval
A.A., Liberal Arts, Collège Jean-de-Brébeuf
Sébastien Proulx is Associate Professor of Design, Coordinator for the Industrial Design major and Co-Director of the DESIS Lab at The Ohio State University. He holds a PhD in Design and a Master of Applied Science in Design and Complexity from the University of Montreal (Canada). He completed postdoctoral studies in public health at the University of Montreal Public Health Research Center (IRSPUM). During is graduate studies he completed a doctoral fellowship in political and moral sociology at the Paris School for Advanced Studies in the Social Sciences (EHESS) and master level fellowship around the topic of Orientation/Disorientation at the Institut Design2Context at the Zürcher Hochschule der Künste (Z HdK) in Zurich. In 2022, he received the Industrial Design Society of America (IDSA) Education Award.
Before joining Ohio State's Department of Design, Dr. Proulx was an instructor at the University of Montreal's School of Design for 12 years. He taught social service design, problem setting and visual communication to industrial design students. He was also a recurring visiting speaker at the University of Nîmes (France) where he intervened in the Design for Social Innovation graduate program.
Dr. Proulx serves as CoEditor-in-Chief of the francophone peer-review journal
Sciences du Design
(PUF). He also remain affiliated, as a research associate, to the University of Montreal's
Design et Société
research group. 
His research program revolves around the role of designers in the development of public services and policies. His approach draws on moral sociology and care ethics to develop an appropriate conceptual framework to provide designers with ways to cope with the complexity of contemporary social and political realities. His researches focus on 1) understanding designers' role in the sociopolitical realm (theoretical axis), 2) expanding the horizon of design activities in the development of public services (practical axis) and 3) making designers capable of assuming the responsibilities associated to such a stance (pedagogical axis).
Sébastien Proulx est professeur agrégé, coordonnateur du programme de design industriel et co-directeur du DESIS Lab à L'Université d'État de l'Ohio. Il détient un doctorat en Aménagement et une Maîtrise en Sciences appliquées (Option Design et Société) de l'Université de Montréal. Il a également complété un stage d'étude postdoctorale en santé publique à l'Institut de Recherche en Santé Publique de l'Université de Montréal et un stage doctoral en sociologie politique et morale (sous la supervision de Laurent Thévenot) au sein du Groupe de Sociologie Politique et Morale (GSPM) affilié à l'École des Hautes Études en Sciences Sociales (EHESS) de Paris.
---
QUALIFICATIONS AND MEMBERSHIPS
Design Research Society (DRS)
Member
Industrial Design Society of America (IDSA)
Member
The International Society for MacIntyrean Enquiry
Member
DESIS Network, Design for Social Innovation and Sustainability
Lab director
Conseil National des Université de France (CNU)
Qualification à la fonction de Maître de Conférence 
---
RESEARCH
Design as a Care Practice
Question the conceptual proximities between Design and Care Ethics.
Building Bridges between Design and Public Health
Determine the extent to which a person-centered-design approach may contribute to the development of socioculturally fitted public health strategies.
Politics of User Experiences
Develop indicators to better understand the general economics of social design methods and study their relevance, limitations, strengths, and weaknesses.
Research conducted in collaboration with: Philippe Gauthier (U of Montreal); Marie D. Martel (U of Montréal); Johanne Brochu (Laval U)
Problematization in Design: Problem Diagnostic Strategies & Methodologies
Examine theories and methods through which designer engage with problematization
Digital Public Participation Lab
Explore how the Hyve-3D system can support the agency of lay people in the decision-making process in public participation
Research conducted in collaboration with: Tijs Van Mansakkers (OSU, Knowlton School); Susan Melsop (OSU, Design); Jason Reece (OSU, Knowlton); William Nickley (OSU, Design)
---
CURRENTLY TEACHING
Spring 2023
Design 6300 | Exploration in Graduate Design Studies, Problematizing
Autumn 2022
Design 5200 | Design Research III
Design 5300 | Design Seminar for Industrial Design , Design and Care Ethics
 
Design 4999 | Undergraduate Scholarship: Thesis Research and Creative Activity in Design
Spring 2022
Autumn 2021
Design 4999 | Undergraduate Scholarship: Thesis Research and Creative Activity in Design
---
TEACHING PORTFOLIO
---
---
PUBLICATIONS:
Edited Books and Journals
Vial, S., Gauthier, P., Gentès A., Leboeuf, J. & Proulx, S. (Eds.) (2019). Sciences du Design, no. 10, "Nouveaux Regards" [Sciences of Design, nb. 10, Novel Perspectives]. Paris: Presses Universitaires de France.
Gauthier, P., Proulx, S. & Münch, F. (Eds.) (2019). Transformer, Innover, Dérégler. Les actes de la 10e conférence des Ateliers de la recherche en design. [Transform, Innovate, Disturb. Proceedings of 10th Conference of the Ateliers de la recherche en design], Montréal, Canada, October 21-24, 2015. Montreal: Édition Design et Société.
Peer-Reviewed Journal Articles
Book Chapters & Conference Proceedings
Gumus-Ciftci, H., Beecher, M.A., Nickley, W. & Proulx, S. (2022) If it's broken, don't just fix it: Exploring repair as design through a two-week charrette, in Rossi, M.L. & al. (Eds.) Proceedings of Design for Adaptation, 2022 Cumulus Conference. Detroit: United States.
Gauthier, P., and Proulx, S. (2022) Differential Moral Framing and The Design Imagination, in Lockton, D., Lloyd, P., Lenzi, S. (eds.), DRS2022: Bilbao, 25 June - 3 July, Bilbao, Spain.
Gümüs-Ciftci, H., Nickley, W., Proulx, S. (2021). Rekindling Student Connection and Engagement: A Covid-Era. In Cruickshank, L. and Valentine, L. (Eds.). Safe Harbours, Proceedings of the 2021 EAD Conference.
Proulx, S. et al. (2021) Rethinking User Experience of Parking Garage. Exploring Innovative Suicide Prevention Strategies Through Motivational Design. In Di Lucchio, L, & Imbesi, L. (Eds.) Proceedings of the Design Culture(s), 2020 Cumulus Conference. Rome: Sapienza University.
Gauthier, P., Proulx, S., Martel, M.D., & Brochu, J. (2020). Towards Impact Design for Public Services: To Assess Impact is to Care is to Design is to Assess Impact… In Teixeira, C., Jones, P. & Tekogul, I., (Eds.) Proceedings of the 8th Relating Systems Thinking and Design Symposium. Chicago, IL: Illinois Institute of Technology.
Trippeer, B. and Proulx, S. (2020) What Should Design Not Waste Time Caring About? In Rodgers, P., Brenner, C. and Innella, G. (Eds.). Does Design Care 2. Lancaster, UK: Lancaster University Press, pp. 62-70.
Proulx, S., Gauthier, P. & Hamarat, Y. (2019). Qualities of Public Health. Towards an Analysis of Aesthetic Features of Public Policies. In Vogel C. and Muratovski, G (Eds.), Re: Research, Volume 4: Design and Living Well. Bristol, UK: Intellect, pp. 13-25.
Proulx, S., & Melsop, S. (2018). Caution Roadblocks Ahead! Hosting a Design Driven Social Innovation Lab in a Research-Intensive University. In Proceedings of the 2018 Cumulus Conference (pp. 250-265). Paris, France: CÉSAAP
Gauthier, P., Proulx, S., Vial S. (2017) Manifeste pour le renouveau social et critique du design [Manifesto for a Social and Critical Renewal of Design], in Vial, S. (Ed.), Le design, collection Que Sais-je, 2nd Edition, Paris: Presse universitaires de France, pp. 120-122.
Lehoux, P., Williams-Jones, B., Grimard, D. & Proulx, S. (2017). Technological Responsibility In Public Health: Insights from Public Deliberations on Cognitive and Behavioral Enhancement. In Cohn, S. & Lynch, R. (Eds.) Posthumanism and Public Health. London: Routledge, pp. 89-100.
Proulx, S. & Münch F. (2016) From the Workshop to the Back Alleys. Engaged Designers in Montreal Civic Life, in De Albertis, C. et al. (eds.), 21th Century. Design After Design. XXI Triennale International Exhibition. General Exhibition Catalog. Genova: Sagep Editori, pp. 119-124.
Gauthier, P. & Proulx, S. (2009) A Political Reading of Design: The Case of Orientation, in Baur, R., Kockot, V., Bellut, C. & Gleiniger, A. [Dir.], Des-/Orientierung, Dis-/Orientation, Dés-/Orientation 2. Zurich/Baden: Institut Design2Context, Lars Muller Publisher, pp. 180-187.
People Filters: