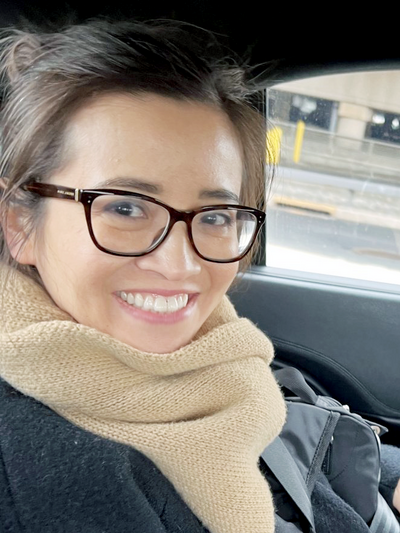 Yvette Shen
Associate Professor | Visual Communication Design Coordinator
124A Hayes Hall
108 North Oval Mall
Columbus OHIO 43210
Areas of Expertise
Visual Communication Design
Information Design
Information and Data Visualization
User Interface Design
User Experience Design
Design Process
Education
MFA in Visual Communication Design, Purdue University
Yvette Shen is an associate professor at the Department of Design at The Ohio State University. Yvette was born and raised in Shanghai, China, and studied fashion design in China, computer science, and visual communication design in the States. Before attending graduate school, she worked as an interactive designer closely collaborating with clients such as Lenox Hill, HGTV, ESPN, Saucony, Abbott, Novartis, Comcast, and numerous renowned art galleries in New York City. Prior to joining OSU, she also worked as an assistant professor at James Madison University School of Media Arts and Design, and the University of Utah Department of Communication. From her personal, educational, and professional experiences, she values the importance of interdisciplinary problem-solving process of exploring and providing functional, creative, and human-centered design solutions to complex problems.
Her current scholarly interests broadly encompass the design methods and creative applications of information visualization. She has investigated two main areas of interest:
1. Design to understand data and reveal insights - how visualization helps people gain a better understanding of complex and obscure information and increase their interest in learning more.
2. Design to promote positive emotions and behaviors - how information design may be applied for the purpose of supporting people's well-being. 
She is actively involved in graphic design and design research organizations such as AIGA, IASDR, SEGD, DRS, and Cumulus. She currently serves as a National Steering Committee Member for the Design Educators Community (DEC) of the American Institute of Graphic Arts (AIGA). Her creative works have been recognized and awarded by various design organizations and publications such as Information is Beautiful, Civic Media Project, GD USA, AEJMC, BEA, Adobe Design Achievement Awards, Creative Quarterly, Applied Arts, etc. Her work has also been exhibited worldwide.
More details about her past and current research and teaching activities can be viewed at: https://designviz.osu.edu/ 
People Filters: