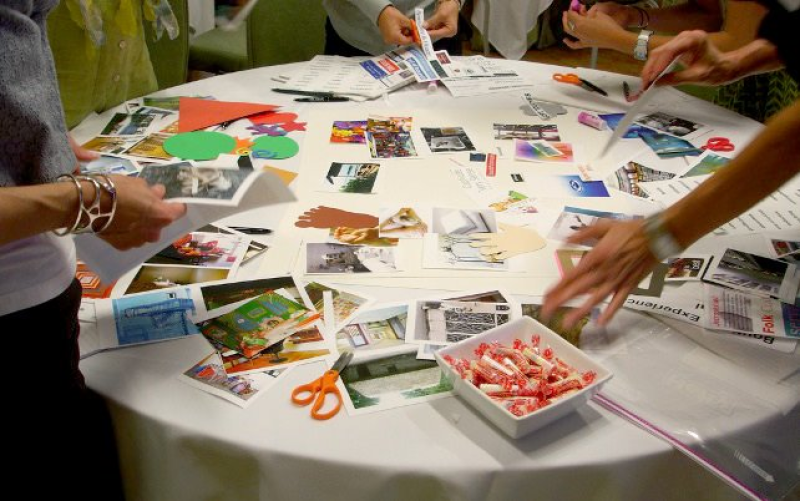 We invite graduate students to join our investigation into co-designing for health and wellness. Leveraging a combination of human-centric design principles, co-design methodologies, and innovative visual techniques, your graduate study will focus on improving communication, inclusivity, and the overall effectiveness of co-designing health initiatives. It will explore how visual methods can foster enhanced collaboration between design practitioners and non-design stakeholders, facilitating greater empathy, understanding, and engagement in the co-design process. The intended outcome is to provide a framework for incorporating visual methods into co-design strategies focused on health and wellness, thereby improving their accessibility and impact.
---
Keywords
Co-design; Participatory design; Generative design research toolkits; Visual methods; Health and wellness
---
Advising Team
---
Current Students Working on the Project
Mahkameh Mallahzadeh's thesis topic is Empowering Marginalized Voice in Healthcare: A Co-design Approach to Foster Equitable Futures, MFA expected in 2024.
---
Profile Description and Preferred Qualifications
- Experience working in collaborative environments and ability to work well with diverse groups of people.
- An innovative and critical thinker who can approach complex health and wellness issues with creative solutions.
- A keen interest in improving healthcare experiences and outcomes through innovative design.
- Familiarity with design software and tools, understanding of co-design methodologies, and ability to create and
  understand visual data representations.
---
Additional Information
Sanders, E.B.-N. and Stappers, P.J. (2012) Convivial Toolbox: Generative Research for the
Front End of Design. BIS Publishers, NL.

Lavender, S. A., Sommerich, C. A., Sanders, E. B.-N., Evans, K. E., Li, J., Radin Umar, R. Z. and
Patterson, E. S. (2019), Developing Evidence-based Design Guidelines for Med/surg Hospital
Patient Rooms that Meet the Needs of Staff, Patients, and Visitors, HERD: Health Environments
Research & Design Journal, First published June 13, 2019.

Emily Patterson, Steve Lavender, Carolyn Sommerich, Kevin Evans and Elizabeth B.-N. Sanders,
(2018) "A Grounded Theoretical Analysis of Room Elements Desired by Family Members and
Visitors of Hospitalized Patients: Implications for the Modern Hospital Patient Room, Health
Environments Research & Design Journal.

Flinn, S., Sanders, E.B.-N., Yen, W.-T., Sommerich, C. and Lavender, S. (2013) Empowering
elderly women with osteoarthritis through hands-on exploration of adaptive equipment
concepts. Occupational Therapy International, 20(4).

Visualizing Stress–In-person and Virtual Co-designing with Chart-Based Tools, Y Shen, EBN
Sanders - … With Design: Reinventing Design Modes: Proceedings …, 2022

Identifying barriers and facilitators to diet and physical activity behaviour change in type 2
diabetes using a design probe methodology, KA Cradock, LR Quinlan, FM Finucane, HL Gainforth,
KA Martin Ginis, .., Journal of Personalized Medicine 11 (2), 72

Staging co-design within healthcare: lessons from practice, EBN Sanders - Staging Collaborative
Design and Innovation, 2020

Collaborating with mammographers to address their work-related musculoskeletal