DESIGN 4650:
Collaborative Design
Interdisciplinary knowledge and problems examined and discussed in the context of social responsibility (global and local).
Prerequisite: Admission to Bachelor of Science in Design program; or Permission of Instructor. 
"Collaborative Studio" is offered as a vertical studio experience that crosses the disciplinary boundaries between our various academic design programs. To create the conditions needed for this type of experience, we offer multiple sections of these courses, each with a different topic, and some unorthodox enrollment constraints.
To achieve the "vertical studio" experience:
This allows us to make sure each section has a balance of third-year, fourth-year, and graduate students in it.
To achieve the "cross-disciplinary" experience, the section enrollments are controlled to try to balance students from our three undergraduate design disciplines, as well as our graduate students, across the section as well. This means that no more than three students per undergraduate major are allowed to enroll into a single Collaborative Studio section.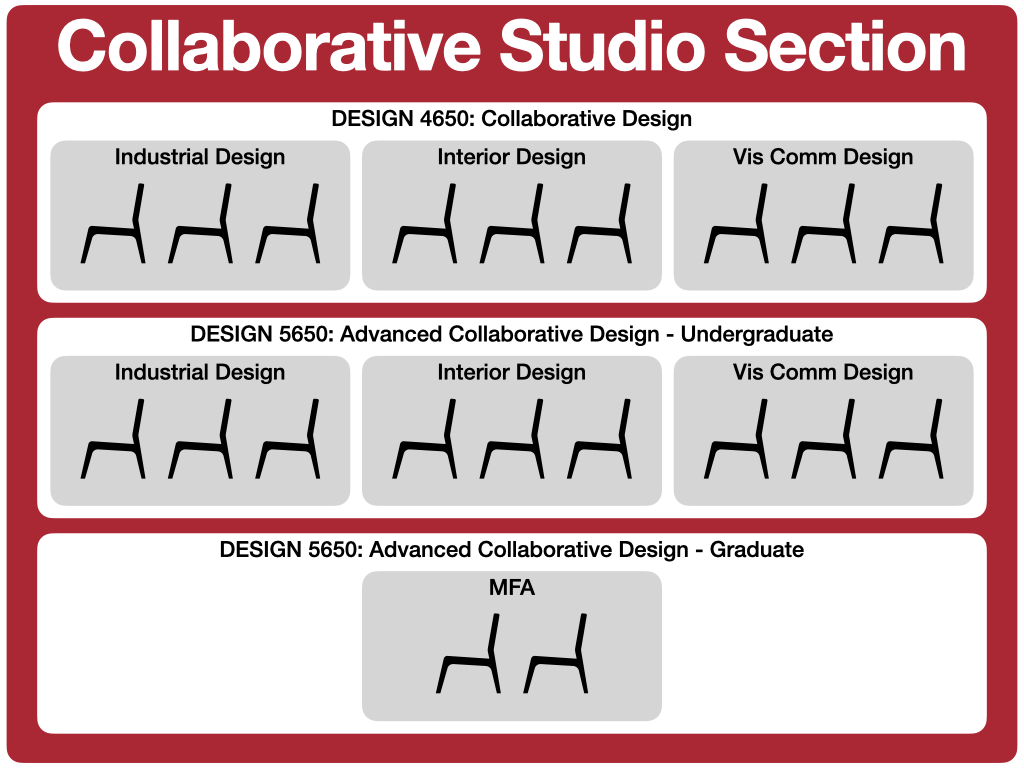 Here is a visual to help explain (we are designers after all).  There are generally 5-6 topics offered each spring term.
There are three seats per major in each section of DESIGN 4650 and three seats per major in each Undergraduate section of DESIGN 5650. There is a second Graduate Student section of DESIGN 5650 for each topic that has two seats in it. Once all the seats in a given section are full, the enrollment system will prevent further enrollments of students in the defined categories. 
Students: know your enrollment window!
Enrollment windows (AKA Scheduling Appointments) are assigned by the Office of the University Registrar the Monday before Autumn Break. These assignments take into account a great number of legal, institutional, technological, and practical constraints. Seats in individual sections are "first come, first served" based on the university assigned enrollment windows. 
Please determine your Enrollment Window in BuckeyeLink and take note of your assigned date and time. 
The instructors for each section have provided an informational sheet about the topic they are offering, and these can be found below along with the enrollment information needed. 
Spring 2024 Collaborative Studio Topics and Enrollment Information
Semester(s) Offered:
Spring
Course Filters: